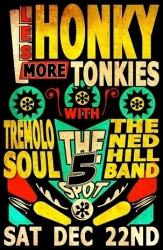 Contest details
Once called the "original East Nashville house band" due to their affinity for playing as many gigs as they could at a variety of bars and beyond, one of East Nashville's original roots rockers, Les Honky More Tonkies, is back for a return engagement at The 5 Spot, and a lucky East Nashvillian will be there as our guest, plus one!.
The reunion show is this Saturday, Dec. 22 at 9 p.m., and Michael Webb's Tremelo Soul and The Ned Hill Band will be kicking the night off.
Enter through this form for your chance to win a pair of tickets; we'll choose and announce a random winner on Saturday, Dec. 22 at 10 a.m. CST.
Need more info or want to make sure you're in the house?
Details are available through the5spot.club.
Happy entering!
Winner: 1
Website: http://theeastnashvillian.com
Category:
Entry Frequency: one-time
Company: The East Nashvillian
Facebook required: no
Twitter required: no