Whether you're looking to create excitement about your new product, boost your customer engagement or grow your list of subscribers – giveaways and sweepstakes can serve as your business ally.
Because giveaways are typically simple and affordable to run and they bring a significant return on investment, companies and individuals across many different industries choose to organize them. When executed properly, they result in increased brand visibility and strengthen the relationship you have with the target audience, which is why it's good to include them in your marketing mix.
But no matter how clever and fun your giveaway is, it won't mean a thing if no one knows it exists. To truly make it worthwhile, you need to create a promotional strategy. That is the only way you'll get traction and reap the benefits from your efforts.
Think you'll need to spend a fortune on promoting your giveaway? Well, think again. If you're willing to invest other resources such as time and creativity, you won't need to spend a dime.
Today, we have prepared a total of 8 free strategies for promoting your sweepstakes that are easy to implement. Read on to find out more.
1. Make the Most of Your Email List
Email is still a precious marketing tool that keeps evolving. According to statistics, the number of email users is expected to grow to 4.3 billion by 2022, which indicates both the popularity and utility of this channel. If you're not collecting email addresses from your website visitors, you should definitely start.
Email is a channel that is somewhat intimate as it offers a precious opportunity for businesses to have a one-on-one conversation with their subscribers. To make the most of it, here's what you need to take in mind:
Timing

Personalization

CTAs

Attention grabbers
It's advisable to send an announcement email to your list in the period of 24-36 hours after you've launched your giveaway. This is to ensure you've set everything right and that it's something safe to promote. It's good to ping your subscribers who haven't entered the contest once again (this time 24-36 hours before the giveaway ends) to remind them they can still participate.
When it comes to personalization, it seems that it has become a buzzword these days. However, the numbers don't lie: 82% of marketers say they have noticed an increase in open rates through email personalization, which means you could definitely benefit from it, too. Adding a personal touch to your email, even if it's something small such as addressing the recipient by their name – can mean a lot of difference. You can use MailChimp here as it is simple and very user-friendly.
In addition, you have to take in mind the attention of your subscribers is all over the place. Hook them with an effective subject line that indicates the date when the giveaway ends in order to create urgency. Include an effective and visually bold call to action to make it clear for your subscribers what they need to do and enable them to enter the contest with a click.
2. Referrals Are Incredibly Effective
When it comes to marketing, there's nothing that could ever replace the power of personal recommendations. It is all a matter of trust: we take opinions and experiences from people within our closest network seriously and see them as reliable.
As a matter of fact, Nielsen research has shown that 92% of people trusted referrals from people they knew. Most of us do too, as we know they are honest and don't have any hidden agenda when recommending us something.
To promote your sweepstake, you should definitely inspire referrals. This is how you'll create the so-called "snowball effect" and maximize your reach. Referrals are incredibly effective for two main reasons:
– As we already mentioned, referrals are trusted and fall into the category of unrivaled "word-of-mouth" marketing

– Referrals break through the noise and are highly targeted, given the fact people will share your giveaway only to their close ones who will might be interested
Exciting thing about referrals is that they have the potential to make your giveaway viral. However, a lot of different pieces of the puzzle have to fall in place in order for that to happen. To increase your chances of having extraordinary reach, you need to have a well developed network and offer truly valuable prizes, i.e. provide something that's truly worth sharing.
People will usually be willing to refer to a friend if they have a clear gain out of doing so. Make sure to communicate clearly what's in it for them (e.g. they could be rewarded with extra entries for the grand prize) and make it easy for them to share and refer. This is how you turn your contestants into advocates. The moment you add boring and tiring steps to the process, you can expect people will rather choose not to participate at all. Of course, you can always make referral a necessary requirement for people to participate in the first place, by defining so in the rules.

3. Utilize Twitter and Hashtags
Twitter is such an amazing network for promoting your sweepstakes. With smart usage of hashtags, you can reach people outside of your existing audience pool and encourage retweeting. Useful tools such as Hashtagify can help you determine a popularity of a certain hashtag and complete it with other relevant ones that will help you increase your giveaway's visibility.
To successfully promote your giveaway, tick the following things off your list:
– Make your post stand out from the feed by including a tempting photograph of the products or services you are giving away
– Use up to 4 relevant hashtags for better visibility
– Craft a compelling copy that consists of a strong CTA
– Generate urgency and trigger the fear of missing out (FOMO) among your followers
– Of course, include a link towards the contest
Since Twitter moves fast, you have to ensure your posts are not pushed to the bottom and left forgotten. This means you will need to post several times for the sake of exposure. However, don't just send the same Tweet over and over again. This is a direct violation of the Twitter rules, plus it can backfire: your followers might get annoyed and feel like they are getting spammed. Instead, get creative.
Invest your time in designing teasers and communicate different fun elements of your giveaway throughout the series of posts. Try your best to turn it into a meaningful conversation, ask questions, and be witty. Make it engaging and entertaining for your followers. Like and retweet if someone mentions your brand, as it makes a great part of cultivating relationships and maintaining a favorable image for yourself.
4. Facebook is Where Your People Are
There's hardly any promotional strategy for giveaways that doesn't include Facebook and it's pretty obvious why. With 1.49 billion daily active users, Facebook is the largest social network on the Internet. What's even better, it has a versatile and rich user demographics, which means different generations are easily reachable.
Facebook is probably the most complete network as it has no particular format focus. With various features such as sharing thoughts in form of status posts, posting photos and videos, organizing groups and managing pages – it indeed has a lot to offer.
To properly use Facebook and promote your sweepstake, keep in mind the following:
– Your post has to contain all the necessary information (what is the giveaway about and who sponsors it, how many days does it last, what should your followers do)

– Think in terms of grabbing attention: include visuals or even better – record a short video in which you'll invite people to participate in the contest

– Make the copy attractive, with a clear CTA and a functional link
– Pay attention to your notifications and reply to all potential questions people may have about your giveaway
For additional visibility, you can invest a couple of bucks and boost your Facebook post, which may bring surprisingly good results. Another great thing about Facebook is the fact it makes sharing so easy, as well as expressing reactions to the post. Thanks to these different options, you can monitor how people react to your post and try your best to improve engagement by making them feel heard and appreciated.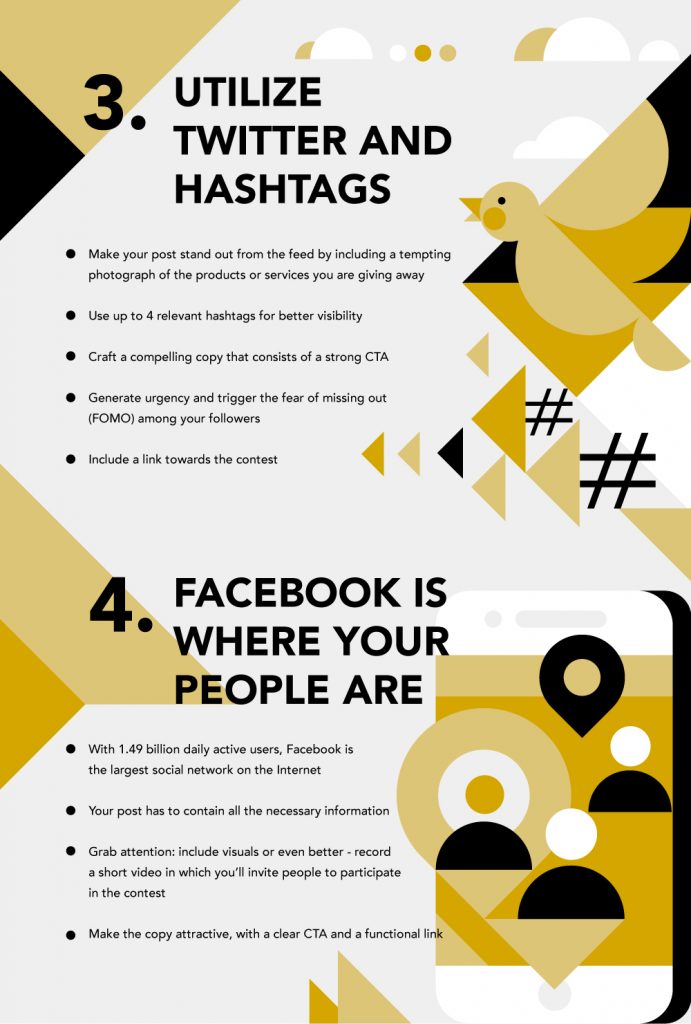 5. Think About Your Website
Your website is the main touchpoint your followers have with your brand, so it's fairly logical to use it to promote your sweepstake. There are two main ways to do that:
– Publish blog posts to inform your audience about the giveaway
– Use widgets or listings in a sidebar
Writing a blog post is a good idea, but how you'll actually execute it depends on your usual publishing dynamics. For instance, if you publish every other day, your post will get lost under the new content you push. Creating a dedicated landing page is also an option, but spoken from a technical side – it's typically too demanding to create, especially if your giveaway doesn't last for a very long time.
When people interact with your website, they want to see fresh information where it is intuitive for them to discover it. This is why PromoSimple offers customizable website widgets that automatically update with your active giveaways. A website widget provides a simple and time-saving way of letting your users know about the active sweepstakes so that they can immediately enter.
You can create a widget just by checking one box and when a promotion expires, it automatically stops appearing to users. The design is fully customizable so you are free to create an appearance that you feel will resonate with your audience.
6. Submit to Directories
One of the best ways to get additional traffic to your sweepstakes is to submit to directories and get a link that will direct users to your promotion.
However, this promotional tactic is not for everyone. These directory websites are often visited by people who are looking for some freebies, which is completely legit but does nothing for you if you want to broaden the pool of your relevant prospects, collect email addresses for future marketing purposes, and generate leads.
If you're just looking for exposure, then directories could be of great help. Some of these websites offer completely free submissions while others require that users make a free account before submitting their giveaway. Make sure you read all the posting guidelines before submitting as you can get banned in case you violate the rules.
Here is a list of giveaway directories to check out:
There are also content syndication platforms such as Mix (formerly known as StumbleUpon) that make a great way of promoting your giveaway because their audience is truly versatile and global.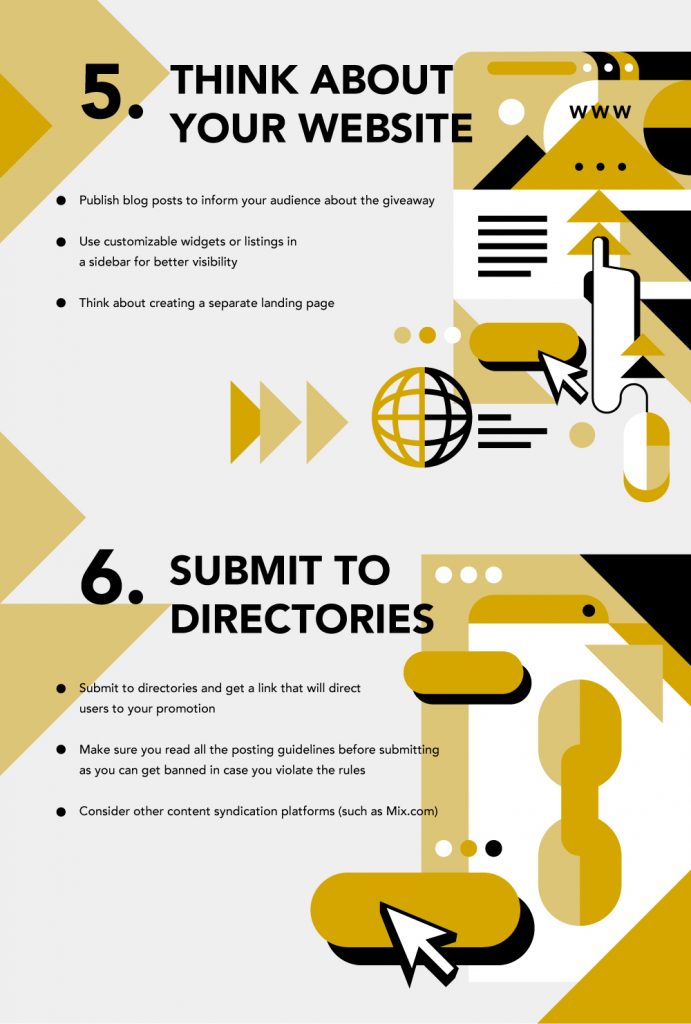 7. Nurture Strategic Partnerships and Outreach
In addition to directories, think about other websites that have the same target audience as you. It's good to make a list of these opportunities and then turn to outreach whenever you need additional exposure for your giveaway. Keep in mind that some webmasters charge for publishing guest post while others don't as long as your article is relevant to their followers and of great quality.
When outreaching, keep in mind the following:
– Don't make your email too long and format it nicely (keep paragraphs short and bold key things to make your email more clear and consumable for the recipient)

– Be open about what you need from the recipient and crystal clear about how they will benefit from collaborating with you

– Make sure to underline a couple of key numbers or facts that indicate your success and trustworthiness
It's always good to develop relationships prior to the outreach. Connect with people on social media, engage in a conversation with them, endorse them, share their articles – and show gratitude when they do the same. This will increase the chances of your email being recognized as a solid business proposal, opposed to as spam.
8. Turn to Cross Promotion
Have you ever thought about joining forces with other credible professionals from your niche and creating a win-win situation for both sides? Well, this is what cross-promotional marketing strategies come down to.
You can establish a referral program with your chosen partner so when you cross-promote each other's giveaway – there is an actual incentive implied. This might be bonus entries within the giveaway, or anything else you agree upon. There are many benefits of doing a cross promotion:
– You strengthen business relationships and cut down the costs of marketing activities
– You get great exposure both for the giveaway you're promoting and for your brand
– You are more likely to generate word-of-mouth recommendations
If turning to cross promotion, always think about differentiating yourself from others. Design your entry form so that it reflects your brand. This way, your entry will be recognizable wherever it's published and your potential entrants will memorize it. That's how you create strong brand recall.
As you can see from everything written in this article, your promotion of sweepstakes does not necessarily have to wound your budget. All it takes is a little bit of creativity and effort for amazing results.
If you feel you could use a little bit of guidance in designing, launching, and promoting your giveaway, check out how PromoSimple can help: contact us today!