Create
Enter the basic contest details like entry requirements and prize details.
Design
Design your entry form with custom images, colors and templates. Choose social media actions to be performed or mailing lists to integrate.
Launch
Simply hit a button and your contest will run on specific start & end dates.
Promote
Share a direct contest link, embed into your website or sharing on our Giveaways network.
Pick a Winner
Let our random algorithm pick one for you, use an external service or pick one yourself.
Analyze
Access all of your promotion's entries with real-time reports. Export spreadsheets with your data at any time.
Create Your Contest
PromoSimple is one of the simplest ways to run a giveaway. You can launch a contest by simply entering your contest details such as name, prize, start and end dates, and clicking publish. It's as easy as that!
But if you want more, we have plenty of useful features..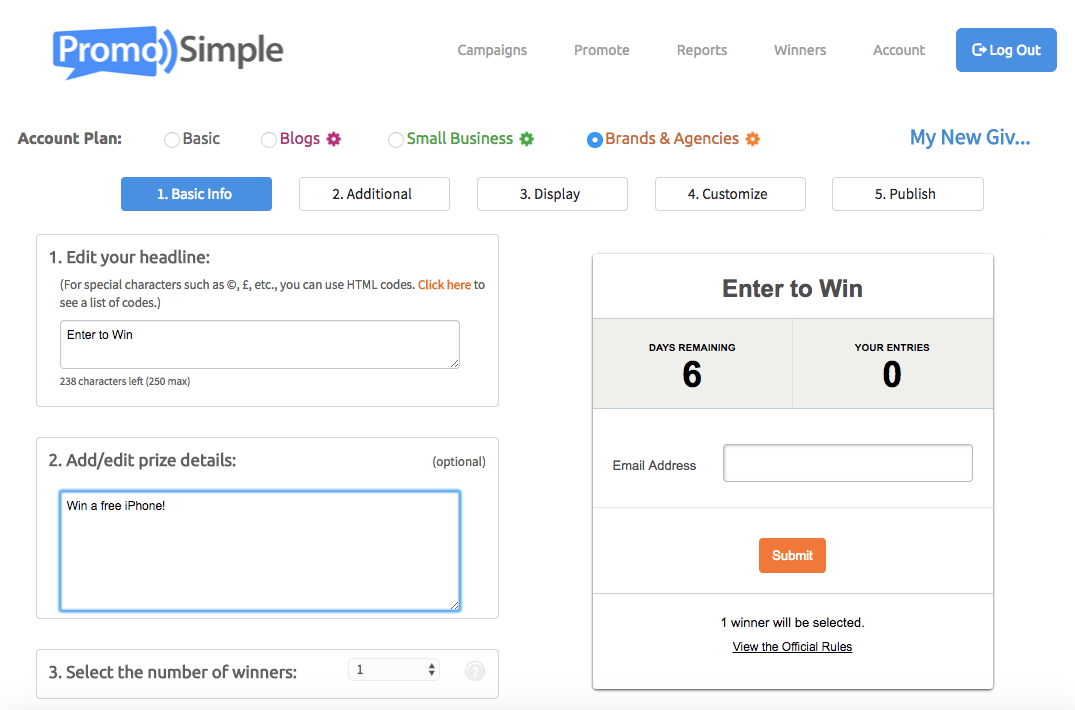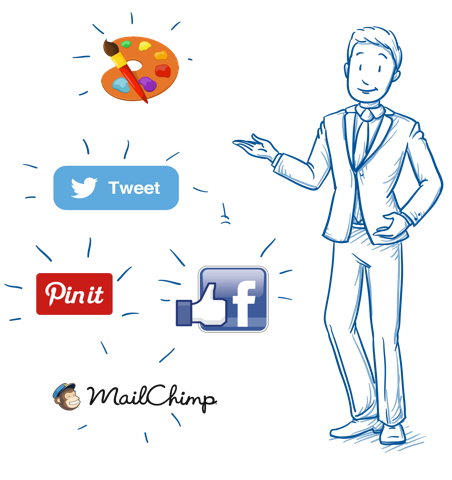 Choose Extra Options and Integrations
Capture extra fields of user data such as name, address and phone, or add custom fields.
Add age and location restrictions.
Add actions you'd like users to perform such as sharing your website or contest on social networks Facebook, Twitter, Pinterest and Instagram.
Integrate your entry form with email service providers such as MailChimp, Active Campaign, Mad Mimi and Constant Contact. Autosubscribe any entrants to your newsletter lists, or send an immediate follow up email after entry.
Facebook
Rapidly increase your Facebook fan base by including 'Liking' a Page or URL as an entry option.
Twitter
Ask entrants to Tweet about your promotion or become your Follower on Twitter.
Instagram
Gain momentum for your Instagram account by rewarding 'Likes' and 'Follows'.
Pinterest
Build brand awareness by encouraging users to Pin images or become your Follower.
Polls & Surveys
Include poll, survey and quiz questions within your sweepstakes to further engage your entrants and gather user information.
Design Your Entry Form
Upload an image to show users what your contest is about.
Choose from several pre-made layout templates, or take full control and specify layout, colors and fonts yourself.
If you want to get really advanced, you can customize the specific look and feel of every field with our WYSIWYG editor, or even modify Entry Form HTML and CSS code yourself.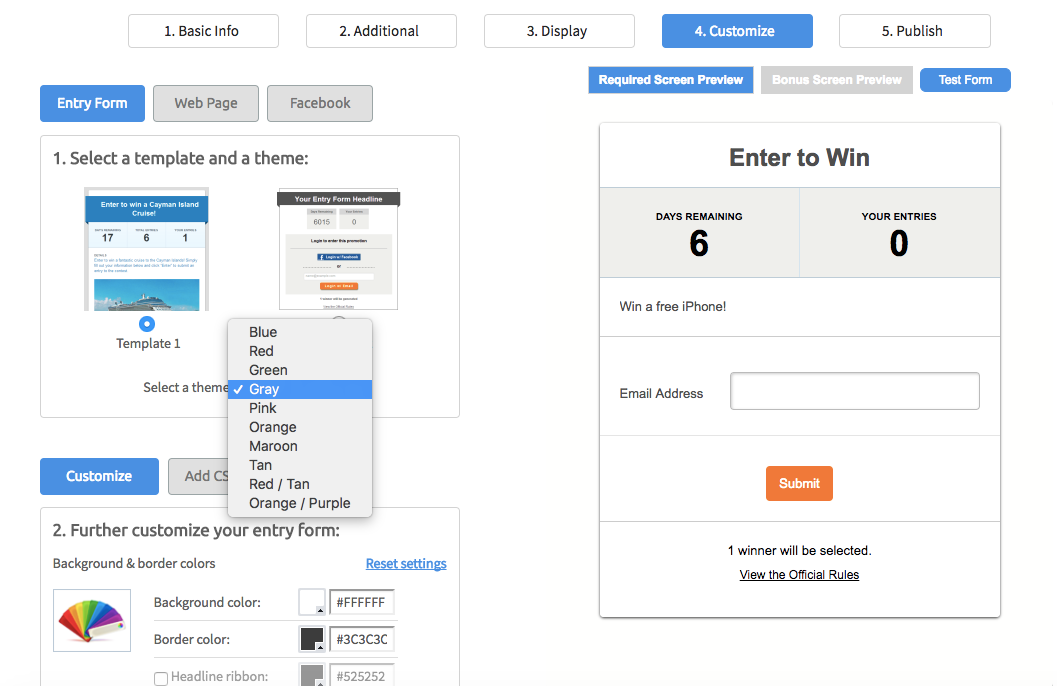 Upload Images
Add and edit your own images to entry forms and generate excitement for your brand and sweepstakes prize.
Templates & Themes
Select from multiple templates and a variety of colorful themes to find a design that fits your website's branding.
Custom Designs
Craft uniquely designed entry forms with fonts and colors that represent your brand identity. Choose to display or hide elements in your entry form.
Facebook Pages
Create your own content to show within a Facebook Page Tab using HTML/CSS and/or our WYSIWYG editor.
Entry Confirmation
Display a custom design or message to display to users once they've completed the promotion's required entry section.
WYSIWYG Designer
Simple WYSIWYG editor allows you to design Facebook & Microsite pages with absolutely no design experience.
Launch your promotion
Just hit publish and it's off!
You can share a direct URL to your promotion hosted by us in the Cloud or Embed it within your website.
Our Embed promotion code has been tested to work across many many different types of websites and devices.
PromoSimple has run over 50,000 campaigns. Our systems have been tested to operate at scale, so you can trust that your promotion is in good hands.
Promote your campaign
Use some of our additional promotion options to amplify awareness of your campaign.
Embed your contest into a Facebook page, share it on PromoSimple's public Giveaways Directory (promosimple.com/giveaways), or enable 'Refer a Friend' features to reward users for spreading the word.
You can also add a PromoBar into your website to put the contest front of mind.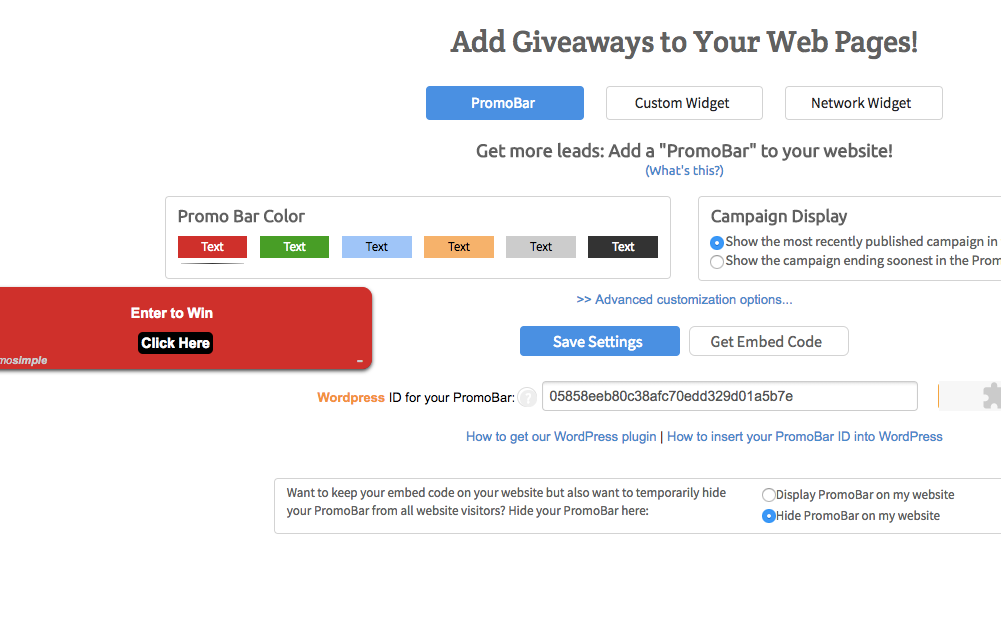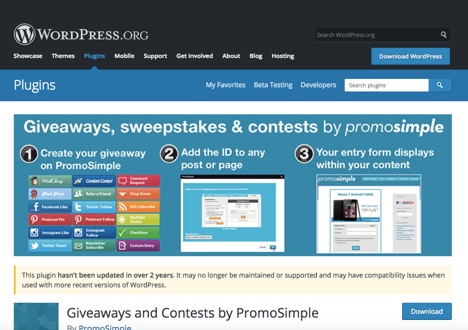 Refer A Friend
Reward users when their friends enter through links that they've shared via Facebook, Twitter & more.
Giveaways Network
Opting into the Giveaways Network gives you access to new audiences on websites, newsletters and social media.
PromoBar
Engage your website visitors and decrease bounce rates by putting your campaign front and center with the PromoBar.
Embed Anywhere
Add entry forms to your websites, blogs and Facebook pages. Run a single campaign on multiple websites simultaneously.
Website Widgets
Add widgets to your websites to allow users to browse all of your currently active sweepstakes.
Mobile Friendly
Entry forms that are designed to work across all devices. Auto-redirect from Facebook tabs for mobile users.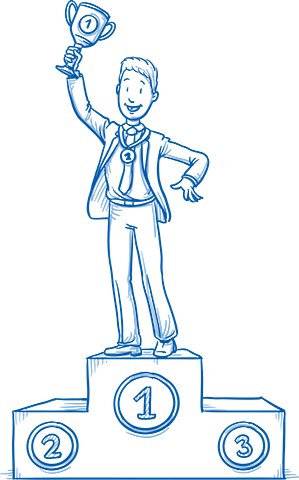 Pick your winner
When your promotion's ended, choosing a winner is as simple as clicking a button.
You can choose from various winner selection options such as picking one winner yourself from the final list of entrants, use PromoSimple's random choice algorithm, or relying on the external random.org for impartiality.
Advanced Features
We have advanced features for brands and agencies.
Set your own contest rules with our rules generator.
Fully white-label the entry form so no PromoSImple links or branding is visible.
Integrate your own Google Analytics tracking into the entry form to keep track of your visitors like your own website.
You can also design your own full microsite landing pages for your promotion.
Official Rules Generator
Enter the basic details of your promotion and let the generator create Official Rules for your promotion.
Microsite Design
Build microsite landing pages with images, HTML, CSS and more for a completely branded user experience.
White Label
Use our White Label option to build entry forms without any mention of PromoSimple - perfect for agencies.