When it comes to promoting your giveaways there are no limits on the number of channels that you can utilize from Sweepstakes Directories and Social Media to email and website promotions. While all of these channels have benefits they can each be time consuming to update and properly utilize. Luckily, there are easy ways that you can automate much of this process.
Using an automation service like IFTTT allows you to create rules that use triggers to automatically take action for you. IFTTT is a free service which makes it simple to connect the various apps that you utilize for promoting your sweepstakes. These channels include RSS feeds, Facebook, Twitter, Instagram, LinkedIn, Tumblr, YouTube Buffer and more.
Using IFTTT
With IFTTT you can use recipes that have been created by other users or create your own from scratch using IFTTT (If This Then That) logic. Simply choose a channel on which an action takes place that will tell your recipe to run. IFTTT will check every 15 minutes for new triggers across your channels. There are currently over 100 channels on IFTTT that you can utilize in your recipes.
Creating Triggers for IFTTT Recipes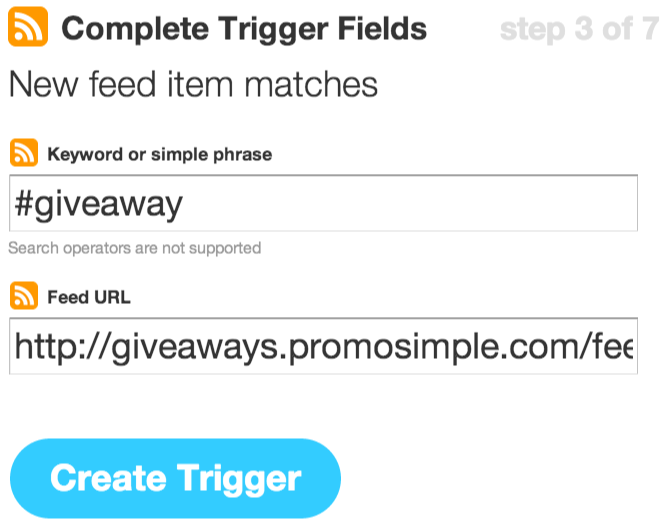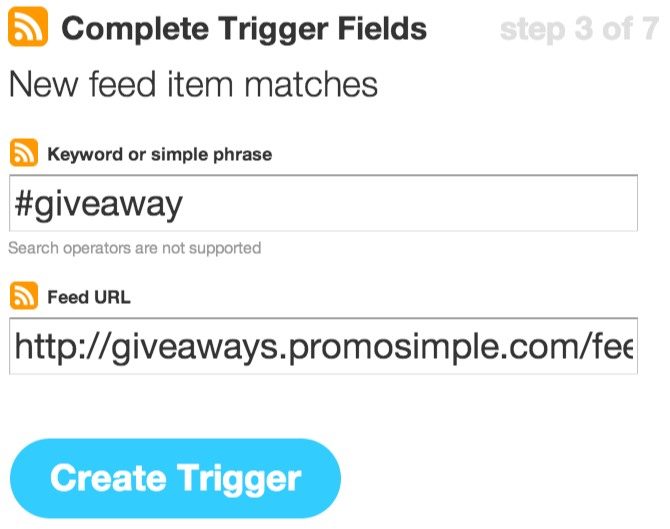 Posting a photo on Facebook
Uploading a photo to Instagram
Tweeting a specific Hashtag
A new blog post is published
When a trigger occurs, the Action (That) portion of the recipe will take place automatically. The action can take place on a channel separate than the trigger, so a trigger occurring on Facebook can kick off an Action on Twitter.
Selecting Actions for IFTTT Recipes
Send a Tweet
Send a text message
Create a status update on Facebook
Create a photo post on Tumblr
Each recipe can also include ingredients for the Trigger. These are elements that allow you to specifically specify what content will trigger an action. For instance, maybe you don't want every single Facebook status update that you create to be Tweeted, but you do want all of the status updates that contain the hashtag #giveaway that you post on Facebook to be Tweeted. You can use this hashtag as an ingredient in your recipe to specify this action.


5 helpful Marketing Recipes
Tweeting new blog posts: Every time a new post is published on your blog a Tweet is automatically sent. You can also customize the content of your Tweet to include your own, default text, the post's title, URL, author, image and more.

Post Giveaway Blogs Posts to Facebook: You can create a post for every new blog post or specify which posts (such as those that include #giveaway in the title) should be used for creating new Facebook posts.

Tweeting content from your Facebook Page: You can specify a single Facebook Page's content that should be tweeted to your followers. This can be specific content such as images, link posts or status updates. You can also specify that only a photo, link or status update that contains a specific hashtag should be tweeted. For instance, only the status updates that contain #Giveaway should be automatically Tweeted to your followers.

Tweet a thank you to your new followers: Send a default thank you Tweet to all of your new followers. A great way to let them know about your popular content or include a link to your most recent giveaway.
Post Facebook Status Updates to LinkedIn: Specify a hashtag to filter your posts or post all of your status updates from your Facebook Page to your LinkedIn account.
Beyond promoting your giveaways IFTTT is a handy way to automate and catalog your online data with recipes that allow you to save links and media files, send emails and even turn on the lights in your house. There also other similar, services such as Zapier that provide functionality similar to IFTTT.



In addition to an automation service like IFTTT or Zapier you can also try out automation features within your everyday marketing apps that can save an immense amount of time. Try setting up an RSS fed campaign in your MailChimp account to generate newsletters from all of your recent blog posts. Do you use automation for your marketing efforts? Tell us what your favorite marketing apps are in the comments below: