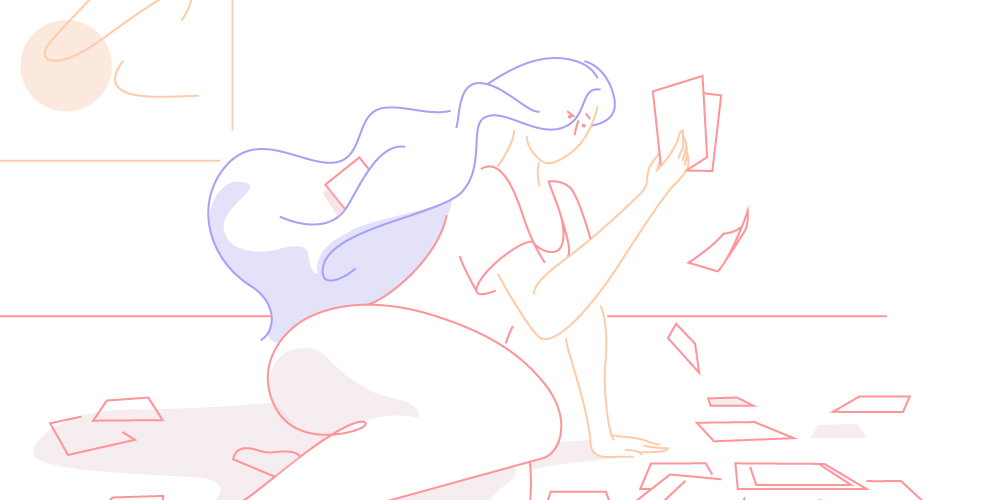 People are visual beings, able to understand images instantly, processing them 60,000 times faster than words. Consequently, we are likely to respond better to visual information, as more than 90% of all input our brain receives is visual.
It comes as no surprise that visual content became an integral part of digital marketing, especially when a piece of content is meant to entice the readers to enter a certain contest or a giveaway. Marketing experts realized that by visualizing the contest prize, showing a picture of an excited winner holding it, or posting a relevant image related to the contest, more entrants will want to participate. 
For many content creators and startup owners, a proper use of quality contest images was the turning point for their businesses which led them to success. One example is Julie, whose food blog turned into a thriving business once she realized that a picture is worth much more than a thousand words.
When organizing contests, finding high-quality contest images to illustrate them is not an easy feat, so take a look at the list of stock images websites that will make your contest really stand out.
Free stock photos
The following is a list of free high-quality stock photo websites where you will definitely find contest images that will be a perfect fit for your upcoming contest.
Pixabay

Pixabay is one of the most varied free stock websites there is, with a staggering number of over 1.6 million quality images to choose from. Pixabay makes it easy for you to search for contest images, since you can browse by category (they vary from nature, travel, and food, to science and technology), or by typing a keyword of your choice into the search box (gift, prize, winner, etc.). In addition, images posted by the same user are all sorted by the date they were posted, popularity, and editor's choice. Once you find the image that is perfect for your contest, you can download it in 4 different sizes:
– 640×366
– 1280×733
– 1920×1100
– 6000×3438
Pixabay has a very diverse content offer; besides photographs, you can find illustrations, vectors, and videos as well.
Unsplash

Unsplash is a platform designed to gather photographers willing to offer their best high-resolution images, completely free of charge. With a considerable library consisting of more than 550,000 images, there is a good chance that you will find what you are looking for. What makes this website unique is the quality of submitted images, as well as vivid colors and creative ideas. Searching for contest images is straightforward; if you go to the Explore tab, you will find that the images are organized by categories and subcategories, which can narrow your search even further. For example:
– Nature – flower, sky, spring, etc.
– Technology – computer, phone, MacBook, etc.
– Happy images – love, party, friends, etc.
Furthermore, there are collections of images categorized by users and grouped under a common topic. Unsplash also offers a search box if you have a certain notion in mind, or a hand-picked selection of images editors choose every day.
Freepik
Freepik is a platform that gathers free high-quality illustrations, graphics and vectors that can be found on various websites, which greatly facilitates the user's search process. The focus is on graphics vectors, which makes Freepik an ideal stop for those who are in dire need of quality, yet simple and versatile contest images. Most of the vectors and illustrations are free to use, but you are obliged to credit the author. However, if you decide to subscribe to the Premium plan for a small fee, you become a VIP member and gain access to exclusive content, and will not be required to attribute illustrations and vectors. 
You can search content not only by categories, but by content type as well:
– Vectors
– PSD
– Icons
– Photos
– Selection
– Premium
Additionally, you can use the search box and type any keyword you'd like to include. Keywords such as giveaway, contest, or prize winner will give you amazing results for general contest/giveaway illustrations.
Picjumbo
Picjumbo is a stock photo site run by Victor Hanacek, a photographer whose images are free for personal or commercial use. He releases one free image per day, and you are not required to credit the author. There is also a possibility of subscribing to the premium membership which allows you to access unpublished contest images and have exclusive collections delivered to your inbox every month. Picjumbo offers high-quality, full resolution images that are sorted by categories, such as:
– Abstract
– Business
– Holidays
– People
– Technology
– Transportation, etc.
You can also browse for contest images by tags by using the search box where you can type keywords you would use to depict the main idea behind your contest or a giveaway.
Google images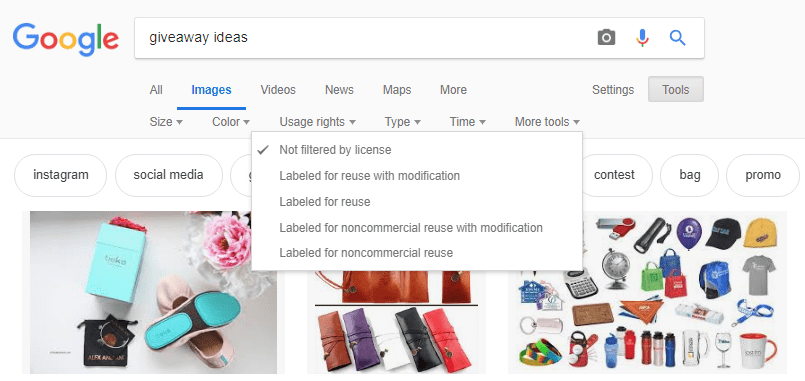 If you want to browse the images posted on various websites, Google images will gather and collect all of them in one place, making the search process very time efficient. You can use Google images when searching for more general images, or those directly related to the contest you want to organize. The images vary in terms of quality and resolution. To ensure the images are royalty-free (i.e, free for personal or commercial use), click on "Usage rights" in a drop-down menu and limit your search to those labeled for reuse with modification, or labeled for reuse.
Pexels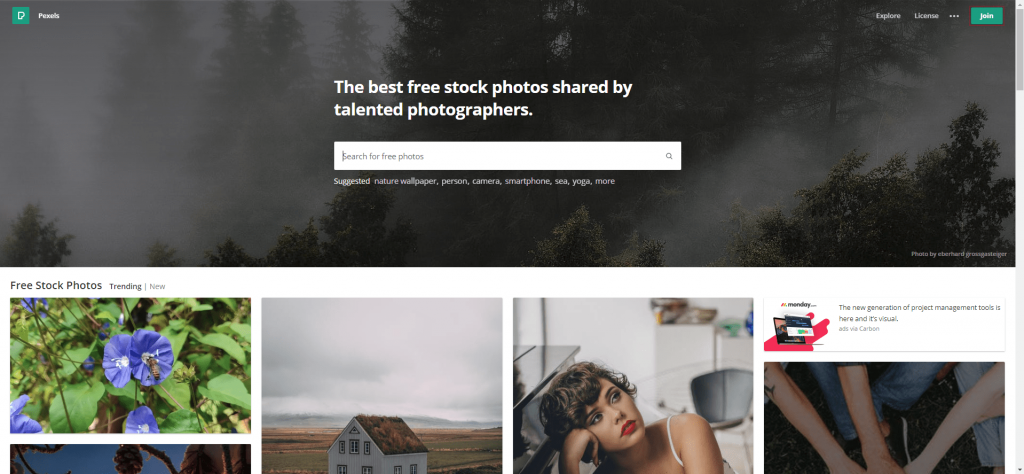 Pexels is a free images library which editors hand-pick images from other free stock photo websites to make them easily accessible to their users. Pexels also gives its users the opportunity to submit their own images and join the community. Images are high quality, royalty-free, and no attribution is required. You are also allowed to modify and edit contest images as you see fit. Browsing through images is very simple; one way to do it is by using "Explore" drop-down menu, which includes categories such as:
– Discover photos
– Popular photos
– Popular searches
– Leaderboard
– Photo challenges
– Photos by color
The other way is to use the search box to narrow your search and get more specific images. Once you find the perfect one for illustrating your contest, you can download it in different sizes:
– 5184×3456
– 1920×1280
– 1280×853
– 640×426
– Custom size (you can enter the desired dimensions)
In addition, you can browse through the images of a particular author once you go to their user profile.
Paid stock photos
Now let's have a look at some of the most resourceful paid stock photography websites, where you can find high-quality contest images to illustrate your contests and giveaways.
Istockphoto
Istockphoto is a user-generated platform by Getty Images that offers images, vectors, illustrations, and video clips to their users. Images are grouped into content types, which are then categorized and filed under an appropriate common theme. All images are high-quality and high-resolution. As content on iStock is paid, you can choose one of the three possible payment options:
– Buying a single image – the price of every image is 24€ (3 credits). This option is best for those of you who are looking to get a one-time contest image only, and don't have long-term plans for using other paid images for future projects.
– Credits – this package is for those who have moderate image needs, as it will save you money if you buy more credits at once. For example, if you buy only 3 credits (enough for one contest image), it will cost you 24€. However, if you opt for 60 credits, the price will be 380€, which means you will save 100€.
– Subscription – Choosing a monthly or yearly subscription plan will allow you to save even more money on a monthly/yearly basis. However, this is only relevant to those who have greater image needs (from 10 to 750 images per month/per year). In addition, you can choose between two types of image subscriptions:
   Essential images only, a subscription which provides industry standard images, for the price of 35€ a month, and 348€ for a yearly subscription.
   Access all images, which offers you access to all premium images for a monthly fee of 85€, or a yearly fee of 840€.
Depositphotos
Depositphotos is a high-quality platform which library consists of more than 80 million images taken by photographers from all over the world. In addition, you can find vectors and videos there as well. Similarly to other stock websites, all content is grouped by type and categories. What makes this platform stand out, though, are extensive yet simple-to-use advanced search options. For example, you can search for contest images by:
– Orientation
– People (including their gender, age, and ethnicity)
– Image size
– Color
As for the payment process, you have three options available to you:
– On-demand – this option lasts for a year, and has two subcategories:
Standard license which costs $49 for 10 images, $99 for 25 images, and $299 for 100 images.
Extended license (resale or print run images) with prices ranging from $89 for 1 image, $359 for 5 images, and $1,599 for 25 images.
– Subscription – you can choose between a monthly subscription (from $69 to $199) and a yearly subscription (from $699 to $1,999) where your subscription is renewed monthly/annually.
– Flexible plan – where you have no monthly or annual renewal, can download up to 10 high-resolution images every month (if you need more than 10 images, each additional one will cost you $1), and the price is $9.99 per month or $99 per year.
123rf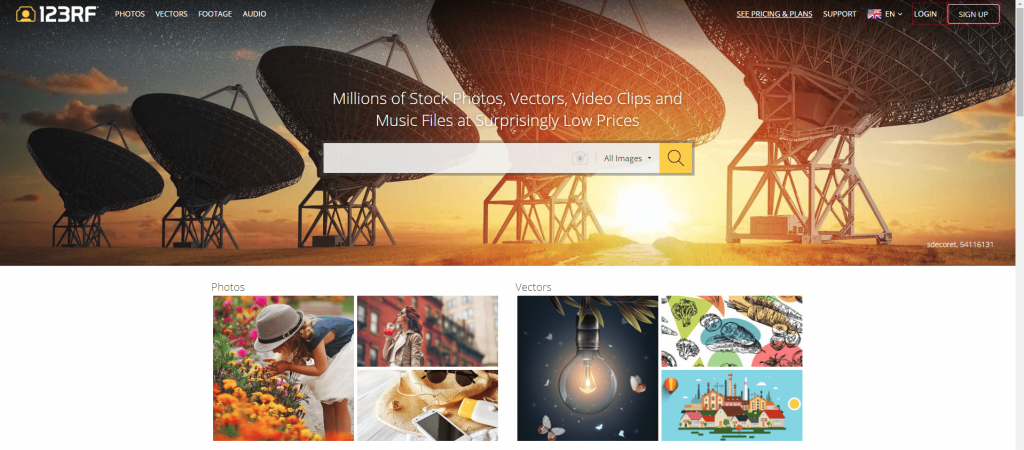 123rf is a stock photos agency that offers more than 113 million user-generated creative content, including images, vectors, fonts, as well as video and audio content. Besides the search box, you can browse through contest images by category (with a substantial number of more than 60 different categories), and you can sort them by relevance, orientation, style, collections, date, number of people, color, etc.
123rf offers two pricing plans for you to choose from:
– On-demand credits, where the price starts from $39 for 40 credits, and the highest pre-set price is $353 for 400 credits. However, you also have an option to set a custom number of credits you wish to purchase (the minimum is 10 credits), so the price may vary based on your needs.
– Subscription plan, designed for users who have long-lasting plans for image usage. You can choose between a monthly plan (from $29 for 10 images to $199 for 750 images a month), or an annual (going from $290 to $1,990)
Adobe Stock
Adobe stock offers you contest images, videos, templates, 3Ds, premium and editorial collections of highest quality and resolution. Once you decide on the type of content you need (illustration, vector, premium image, etc.), you can further narrow your search with the "View filters" tab, which provides advanced search and sorting options, such as by:
– Relevance, most recent, popularity, downloads, undiscovered
– Price
– Subcategory
– Editorial
– Orientation
– Copy space
– Depth of field
– Color
– Number of people
Adobe Stock offers two subscription plans:
Annual subscription – if you opt for a yearly commitment, you will pay between 29.99€ for 10 standard images, and up to 199.99€ for downloading 750 images monthly.
Monthly subscription – month-to-month plan prices are higher, so you will be expected to pay between 29.99€ for 3 standard assets, and 249.99€ for 750 standard assets a month.
There is no customized plan for premium content; instead, you have credit packs which you can purchase depending on your needs.
Shutterstock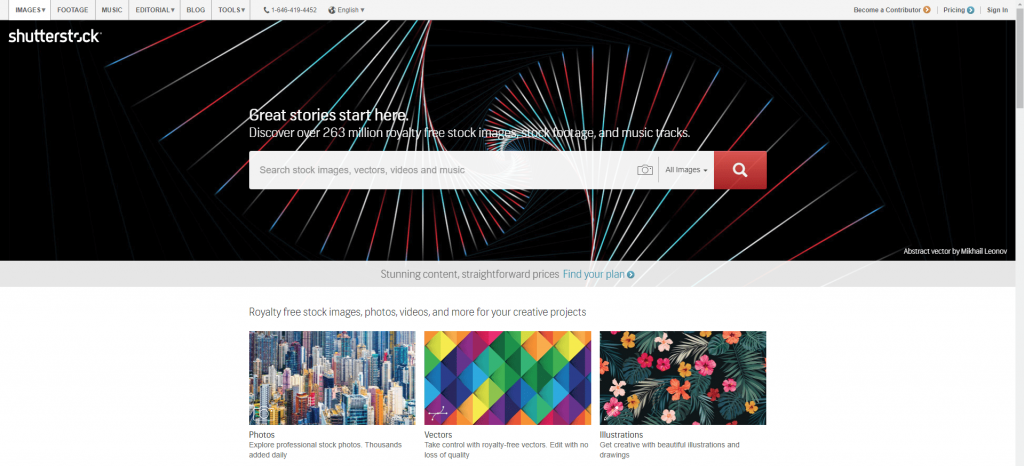 Shutterstock is a royalty-free stock images platform with a record number of over 237 million quality images available for download. You can browse the images by type, categories and, of course, the search box if you would like to target specific contest images (e.g giveaway, prize, gift, contest, winner).
When it comes to the payment process, apart from annual and monthly plans, Shutterstock offers a variety of options to its users:
Individual plans – designed for an individual use, these provide basic packages that offer incentives to single users. As an individual user, you can purchase an annual package from $29 for 10 images to $199 for 750 images, or a monthly package, which can range from $49 for 10 assets to $249 for 750 assets.

Prepaid image packs – where you have one year to download a set number of images (5 for $49, or 25 for $229).

Team plans – designed for a team of people, this plan is for companies which designers are working together on various projects. Price depends on the number of users, so for 2 users the price is $379, for 3 it is $479, and for 4 or more the price starts at $579. Each team can download up to 750 images every month.

Enterprise – plans specifically created and customized for large companies and organizations that have unique and specific needs, licenses and service adapted to their workflow.
Bigstock
Bigstock is a platform acquired by Shutterstock that offers an extensive library of over 74 million of high-quality, royalty-free images and illustrations. When searching for contest images, you can enter your own keywords, or browse through various categories and trending keywords. In addition, you can sort the images by popularity, relevance, date, and type of license.
Bigstock has very detailed pricing plans, so you have a lot of options to choose from and pick the one that best meets your budget. They can be divided into three main categories:
Image credits – should you purchase them, you have a year to use them. The prices range from 30€ for 10 image credits, to 399€ for 500 image credits.

Daily image subscriptions – there are 12 different plans in this category, and their prices differ from each other based on the number of daily downloads (5-50 image downloads per day) and plan duration (from 1 to 12 months).

Monthly image subscriptions – 4 different plans offered are ideal for those of you who want more flexibility, since by choosing a monthly subscription, users have a certain number of images they can download on a monthly basis (from 5 to 200 images per month). The number of image downloads per day is unlimited and prices vary from 49€ to 139€.
PromoSimple and image upload
Once you create your PromoSimple contest entry form and find the image you want to add, you can do it by uploading the image to your account. All you need to do is to click the "Add/Change" button in the Images section of your entry form. The image can be uploaded from your computer, or directly from a website which features stock photos by pasting the image URL. When you finish your upload, you can edit your image before saving it. If you change your mind, you can replace the chosen image at any given moment, even if your campaign has already started.
Every image you add to your PromoSimple account is available for you to use for any contests and campaigns you want to organize in the future, as they will be available in your personal library. Besides the library, any image you upload is available to use at the Giveaway Network, which includes Giveaway Newsletter, Giveaway Directory, and Giveaway Widgets.