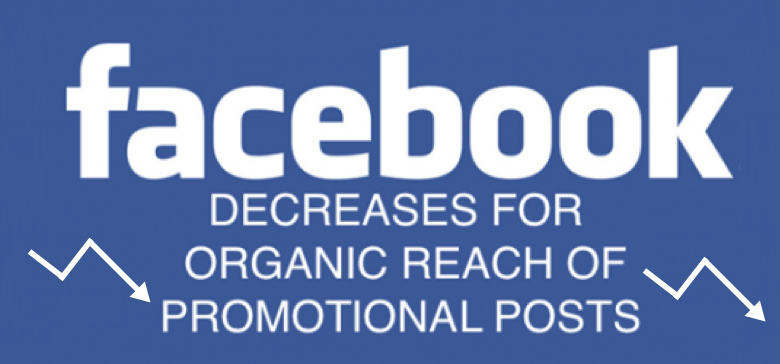 In another algorithm changing that is coming to Facebook Newsfeeds in January 2015, posts that are deemed 'promotional' will be shown to less users organically. This seems to come as no surprise, considering that organic reach in general has been decreasing for some time, adding more reliance upon boosted posts and ads in order to reach your page's fans.
All of this means that Pages that post promotional creative should expect their organic distribution to fall significantly over time.
According to Facebook, after surveying hundreds of thousands of users, they learned that people want more content from their friends and pages that they care about with less promotional content. Facebook does not explain it's definition of 'pages they care about' but we can assume that these are the pages that the user 'likes'
According to the survey, users described overly promotional posts as having three primary characteristics:
Posts that solely push people to buy a product or install an app
Posts that push people to enter promotions and sweepstakes with no real context
Posts that reuse the exact same content from ads
An example of a promotional post is below, from Walmart. This same content could easily be used as or considered an advertisement for the Walmart credit card.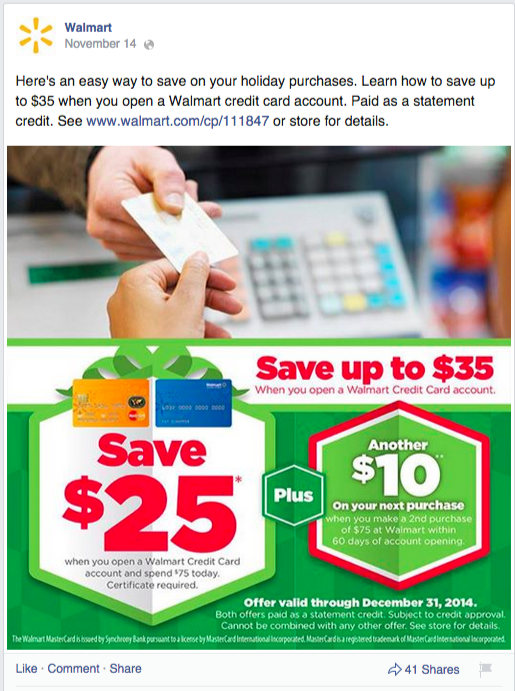 Obviously, Facebook does want pages to share this content, they would just prefer that it is done via an ad, specifically stating that "for targeting specific audiences with predictable reach, Facebook advertising offers ways to achieve specific business objectives, like driving in-store sales or app downloads."
In conjunction with the recent decision to outlaw Facebook Like Gates, this is yet another change that makes it more difficult for Pages to organically draw in new fans.
In October, for instance, nearly a billion people visited Facebook Pages.
While users are clearly visiting Facebook pages still, I would be curious to know what percentage of that billion people visited a Facebook Page because they were served an organic post.
It will remain to be seen exactly how posts about giveaways, sweepstakes and contests will be effected considering the fact that Facebook's comments specifically note posts about promotions that do not have any context. Perhaps your sweepstakes posts will still be shown, but will need to have more content about the prize and promotion itself.
This does also indicate that perhaps Facebook will be decreasing the views for 'shares' from users that post about entering a sweepstakes or to let their friends know about it. This would make sense in relation to Facebook's rule that users cannot be incentivized to share a sweepstakes on their own timeline as a requirement for entry.