It is the spookiest time of the year again! Halloween offers us a chance to show off our creativity with costumes and house decor inside and out. It's lots of fun–and let's not forget all of that delectable candy!
There is definitive positive buzz around Halloween, and spending statistics prove it. Total spending for Halloween is projected to reach a record $10.1 billion in 2021 as people invest in costumes for people and pets, sweet treats, and various hair-raising decorations.
If you want to spark audience engagement, create meaningful interactions, and collect user-generated content, directing your marketing dollars toward Halloween will pay off. The year's creepiest holiday provides a golden opportunity to increase your sales and broaden your customer pool, all while strengthening your brand's image.
Are you ready to come up with some awesome, engaging ideas to elevate your brand and grab the attention of current and future customers? Read on–PromoSimple is here to help!
The Scariest Costume
The scariest costume contest is a classic. It's perfect for different types of social media, Instagram and Facebook the most. You can launch a unique contest hashtag and invite fans to share posts.
If you check the popularity of the search phrase "halloween makeup tutorials", you will see how it surges up by the end of September, as holiday-lovers slowly start exploring and getting ready. People like investing time and effort into crafting the perfect costume and successful DIY projects are always praised. For a great contest launch, you need to understand that drive. Of course, you also need to be strategic about the prizes you're going to offer. They have to be contextual and provide real value that will generate word of mouth and keep customers coming back.
You can let your audience decide on the winner and establish some kind of a voting system, or you can decide by yourself. The former might be better, since it puts your audience in the driver's seat and removes all doubts about the possibility of contest being rigged.

Pumpkin Carving Contest
The tradition of carving pumpkins has become a way of showing off artistic skills. If you snoop around Instagram, you'll see that #pumpkincarving has over 1.8 million posts. Gone are the days when people stuck with a simple scary toothed smile and a pair of triangular eyes; now, people spend hours carving their pumpkin masterpieces and create true works of art.
Make the most of this craze and award the top three pumpkins with your branded products. The attractiveness of this type of contest lies in the fact it's awe-inspiring, which means it has great potential of becoming viral. The amazement is caused by the fact it takes only one pumpkin and a knife to make miraculous pumpkin artwork.
Caption This Scary Photo
Just like the most Halloween contest ideas, "caption this scary photo" contest requires little maintenance and minimum investments, but it can have a huge impact. All your company has to do is to create a high quality spooky photo that obviously has an underlying story which can be interpreted in different ways.
You might even want to create a different twist to it: for instance, the photo could show one of the employees screaming, and you could add a caption like "We at the office are discussing what exactly is Carol terrified about here; so far, the majority of votes say her mother-in-law is coming to town. What do you guys think?"
You should strive towards achieving the perfect balance between humor and scariness. By offering your audience a chance to directly participate, you are actually inviting them into a bigger conversation in which your brand is in focus. Remember to reward the most creative captions.
Scariest Short Story
You are probably familiar with the famous legend about the shortest horror story, attributed to Ernest Hemingway. The legend says the great American writer took a bet and told his friends at lunch that he could write a six-word story that will cause goose bumps. He won the bet by writing the following: "For sale, Baby shoes, Never worn."
What makes this story so scary is the fact it's so subtle and full of implications; it has a lot of things left unsaid, which motivates readers to imagine the possible connections, all the causes and effects.
You can use that within your contest. It will be very challenging for your audience to express itself in so little characters, but this is what will make the contest worthwhile. In addition, because they won't have to write whole essays, people will be more open to participating. Think about the appropriate prizes and let people know in advance how their efforts will be rewarded.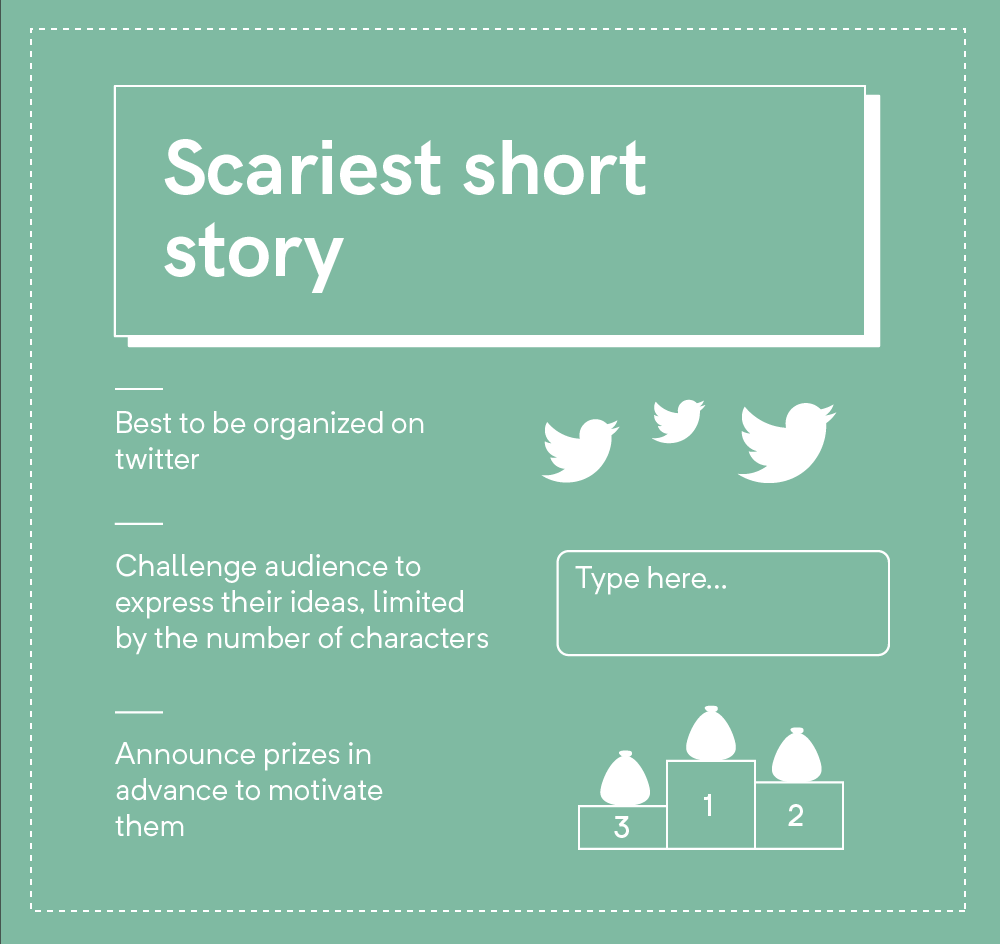 Scary Selfie Contest
People love taking selfies. That's a fact. We won't start with the psychology behind this popular online activity, but it's good to underline that this specific type of visual content has become a way of communication. It's how a majority of users today connect and validate one another. This is what makes a scary selfie contest a bulls-eye.
Your audience will post selfies either way, so why wouldn't they be interested in doing it for a prize? Original and inventive photos are a true magnet for shares, likes, and comments, which can help you reach new audiences and ultimately – generate more revenue in the long run.
You don't have to limit potential participants with lengthy rules, but it's good to direct them a bit in order to inspire them and help them get creative. You can even organize a few different competing categories, such as selfie involving a couples costume, selfie involving a pet costume, and selfie involving a kids costume. The possibilities are endless.

Over to You
Before launching your contest, you need to take some time to assess what your target audience will find amusing. Think about how they feel about Halloween and what type of contest will resonate the best with them. And even though you have a real business agenda behind your Halloween contest, for your audience, it's all about a chance to have fun, connect with others, and hopefully win something!
If you need a little bit of help with organizing your contests, PromoSimple is here for you! You can design a Halloween contest in just a few clicks, monitor all entries, and build your social media following in no time! Try it today!