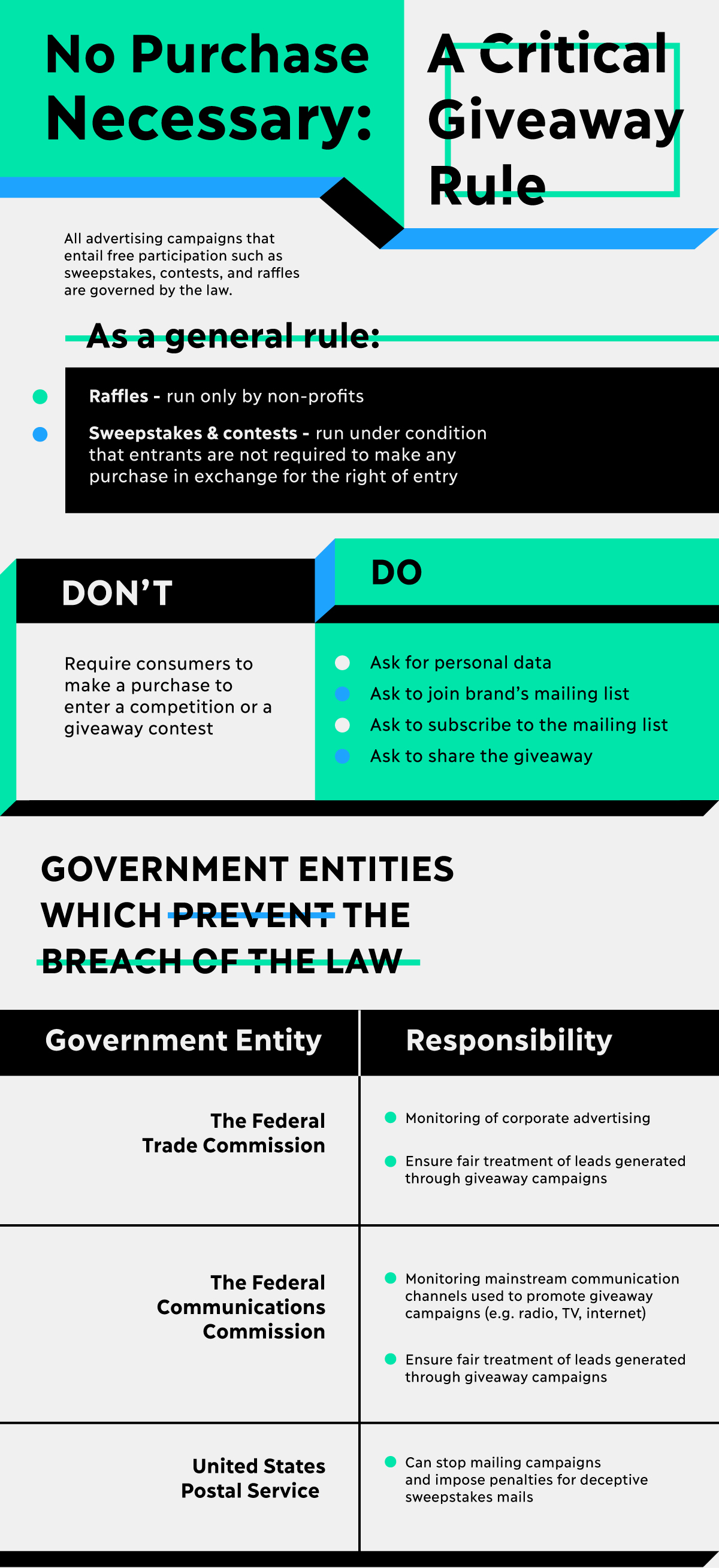 In the world of modern business, startup brands don't really consider promotional campaigns that entail low or no immediate return to be profitable. That's why many small businesses are suspicious about giveaways and other pro bono advertising campaigns. To them, giveaways are nothing but a marketing tool which allows target customers to do little (if anything at all) in exchange for freebies. Namely, classic giveaways are subject to the infamous 'No purchase necessary' clause, which prevents the business from securing an instant financial gain.
So, what exactly does the notorious phrase mean, why is it so important from the legal standpoint, and are there any benefits which your brand can scoop by adding giveaways to its marketing arsenal?
The ABC of giveaway marketing tools: The big four
By definition, a giveaway is a marketing campaign in which a business offers products or samples to the public free of charge. Today, giveaways have moved from real life into the virtual world, allowing online crowds to get free goods in exchange for their personal data, subscription, or social media follows.
There are four types of giveaway campaigns, and they are the following:
• Sweepstakes are giveaways in which the winner is chosen by a random draw, which makes it a game of chance. In sweepstakes, the prizes range from low-end handmade products to all-inclusive vacation deals.
• Raffles are a category of giveaways mainly used by non-profit organizations to raise funds for charitable causes. In a raffle, winners are chosen by a draw and the gathered money is donated as a means of charity marketing.
• Contests are a giveaway marketing tool in which the winner is selected based on some merit instead of luck. In most contests, winners are chosen based on their performance on a given task, such as photography, filmmaking, writing, etc.
• Lotteries are another game of luck in which the winner is selected by a random draw. In a lottery, however, the right of entry entails a fixed fee that participants are required to pay, which makes it illegal for a business to use lotteries for marketing purposes and advertise it as a giveaway.
No Purchase Necessary: The why and the wherefore
Many young brands appear to be completely in the dark about the regulations behind giveaways and the implications of the phrase 'No purchase necessary' or 'No purchase required'. According to the U.S. law (and the laws of many other countries as well), it's illegal for a brand to require the consumers to make a purchase in exchange for a chance to enter a competition or take a giveaway home.
Why would anyone offer products to the public unless they could capitalize from it, right?
Well, it's not as black and white as that: by allowing your target audience to have a free go at your merchandise, you get to build brand awareness, collect customer feedback, and establish a positive association with your brand with both existing and potential buyers. All these benefits can be a key trump card in your company's bag of marketing tricks. You can also gain insight into the best direction to take in future advertising endeavors based on the success of the giveaway campaign.
The secret gains: What giveaways allow you to do
You can't use the giveaway to drive sales that will produce an instant return on investment, but it can be a simple tool to motivate consumers to provide your business with their personal data (such as their email and phone number) or join your brand's mailing list. This can result in a sales hike at some point later, but only if you play your follow-up advertising right.
Other actions which giveaway participants can be prompted to take include following your brand on social media, sharing its posts, watching promo videos, subscribing to your newsletters, or providing your company with first-rate referrals. Once you've established these touch points with the public, you can use other tactics to entice them to become your loyal customers. In this light, a giveaway acts like a hook: you throw it into the pool of your target audience and wait for buyers to come knocking on your company's doors eager to purchase your products. However, you will first have to win their trust or foster interest in your offering with the giveaway.
The Legal End: The meaning of 'No Purchase Necessary'
All advertising campaigns that entail free participation such as sweepstakes, contests, and raffles are governed by the law.
As a rule, only non-profit organizations can run raffles, while sweepstakes and contests can be staged only on condition that your brand doesn't require entrants to purchase something in exchange for the right of entry.
In the U.S., there are a few government entities which monitor giveaways to preventing abuse or breach of the law. In addition to that, each state has giveaway regulations which vary from one state to another, but all serve a common goal: to prevent gambling and abuse of marketing campaigns for profits.
Here's what each of these entities does in their line of work, which legal steps your brand should take to stay on the safe side of the marketing campaign, and what you can do in case you breach the giveaway law. 
FTC: Consumer Protection Taken to the Maximum
The Federal Trade Commission (FTC) is an independent government agency in charge of consumer protection. Monitoring of corporate advertising is one of the tasks that fall under its jurisdiction.
In the small business advertising FAQs, the FTC notes that "sweepstakes-type promotions which require a purchase by the participant are illegal in the United States." The FTC does not directly monitor sweepstakes, but it can intervene in case it notices signs of fraudulent or deceptive sweepstakes proceedings.
In addition to that, the FTC has a hand in the implementation of the CAN-SPAM Act which aims to ensure fair treatment of customers generated by means of giveaway campaigns.
You can learn more about the FCC's take on sweepstakes and lotteries at Broadcast Contests, Lotteries, and Solicitation of Funds, just to stay on the safe side of the law.
FCC: Watchdog of Main Communication Channel
The Federal Communications Commission (FCC) is another government agency which plays a key role in consumer protection and promotion of fair competition. Unlike the FTC, the FCC is tasked with monitoring mainstream communication channels used to promote giveaway campaigns, such as the radio, TV, internet, cable, etc.
In case you intend to advertise your giveaway by means of these communication channels, you'll need to disclose the terms and conditions of the campaign (i.e. eligibility requirements, prizes, start and end times, etc) and refrain from using fraudulent slogans that might be interpreted as an attempt at deceiving the public.
Just like the FTC, the FCC doesn't oversee sweepstakes, but it can act if it decides a giveaway is violating the law, which is why it's best to use the 'No purchase necessary' clause in your giveaway ads.
You can read up on the FCC recommendations at Advertising FAQ's: A Guide for Small Business.
USPS: No Deception in Sweepstakes Emails, Please
By the adoption of the Deceptive Mail Prevention and Enforcement Act (DMPEA) back in 1999, the United States Postal Service (USPS) was granted the power to stop mailing campaigns and impose penalties on businesses that are sending deceptive sweepstakes emails.
In keeping with the law, all businesses which want to use giveaways to acquire new customers are required to state in the mail that no purchase is necessary to enter the competition. They also need to disclose that a purchase won't improve the chances of entrants winning the sweepstakes. This should also be highlighted in the giveaway rules and the entry form.
To find out more about the USPS role in mail-in sweepstakes and sweepstakes advertised through the mail, check out Publication 546 – A Consumer's Guide to Sweepstakes and Lotteries.
A Matter of Law: State Laws on Giveaways
In addition to the federal laws which govern giveaway campaigns, every state in the U.S. has its own laws on gaming, gambling, sweepstakes, raffles, and contests which it strives to enforce through attorneys.
In case you're unsure whether your giveaway is compliant with valid local and state regulations, look them up on the internet or try visiting the office of the local attorney general. On top of that, you can report instances of violation of federal and state law to the local attorney general. This requires either filing a written report or notifying one of the competent government agencies listed above.
Most states have strict rules on giveaway campaigns. It's best to educate yourself about key legal provisions and other relevant details about this type of marketing before you officially launch your campaign. Also, avoid asking for an entrance fee or product purchase in exchange for the right of entry in a giveaway, because modern consumers are highly suspicious of fraudulent ads and marketing scams.
Giveaway Checklist: What to Watch Out For
In case you have decided to stage a giveaway, there are a few things you should consider before you officially announce the campaign on your social media profiles. Here are the top six aspects which your business should keep tabs on when organizing giveaways –make sure you've ticked them all off on your To Do list before you start rolling out the free goods.
1. The prize
When advertising the giveaway, try to include as many details as possible about the prize so that it appeals to your target audience.
2. Right of entry
Another critical point you should cover in your giveaway ad includes the details about the actions that candidates need to take to join the campaign (e.g. following your brand on social media, sharing your posts, watching promo videos, entering personal data in an application form, etc.).
3. Campaign duration
To stay on the safe side of the law, clearly define the start and end dates of the giveaway campaign – and stick to them in practice.
4. Entry qualifications
For maximum campaign turnout, it's best to keep your entry qualifications simple, short, and compliant with the local, state, and federal giveaway regulations. Depending on what you want the campaign participants to do, you might need to consult a legal expert about the type of a giveaway campaign to use and the potential consequences your business may suffer in the worst-case scenario.
5. Winner selection
To keep the giveaway crowd on the right page, include relevant details about the manner in which the winner would be chosen, i.e. by a random draw, public vote, or a decision of an expert jury. This is especially important if you are organizing a contest and intend to pick the winner on your own.
6. Technical matters
Lots of things can go wrong when you're running a giveaway, which is why it's crucial for your brand to keep the technical bases covered throughout the campaign – and to keep your entrants up to date on all important changes, too. The best way to handle the technical side of the giveaway campaign is to create an FAQ sheet and explain what would happen in case of duplicate entries, website glitches or lockdown, double winners, etc.
Bottom line
In the modern marketing arena, few campaigns can beat the appeal of a classic giveaway. Nevertheless, running one does call for careful planning and a couple of special considerations. For top turnout and no legal hassle in tow, make sure you take the 'No Purchase Necessary' clause seriously: after all, the last thing you want is to get reported for violation of federal or state laws and end up on the losing end of the marketing deal. No Purchase Necessary means precisely that – so be sure to follow through on all the details of the marketing campaign and you might see a hike in traffic and profit after the draw. Good luck!