Adding a Pin It on Pinterest entry for giveaways is now easier than ever with PromoSimple. This entry method can be required or bonus in addition to other options for setting up this entry method.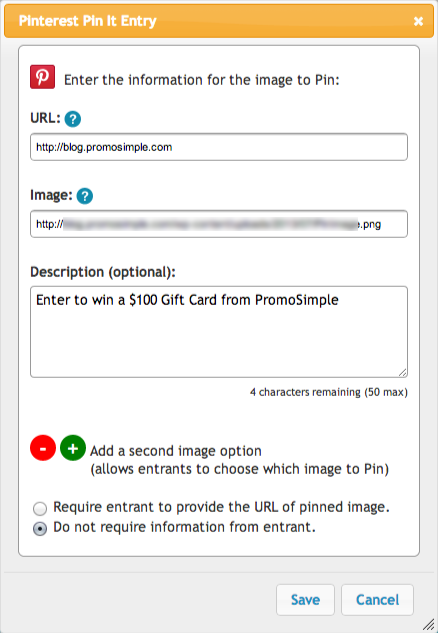 Pinterest image data
You are able to specify three values that will be associated with the image when it is added to a users' Pinterest board: URL, Image URL and Description.
URL: The URL is the webpage where users will be directed if they click on the image from a board on Pinterest. You may want to use the URL of your giveaway from your blog or website for this value so that when users see the image and click through they will arrive at your giveaway.
Image URL: This is the URL of where your image is hosted and served from.
Description: The description is optional but should contain very brief data about the image for users who view this Pin on Pinterest.
Adding images to be pinned
You can opt to add a single image or add two images that the entrant can choose between. This gives a bit more variety for what images are pinned from your giveaway. They can contain the same URLs or different information.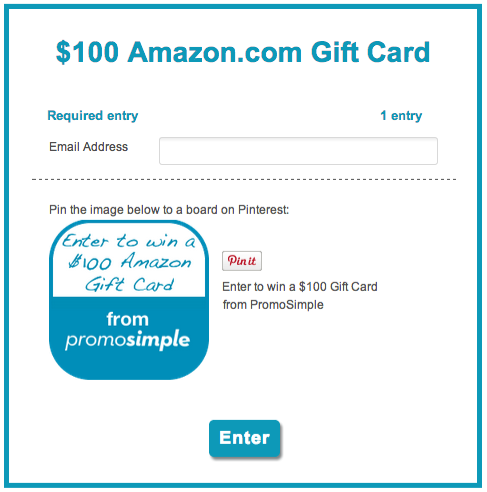 Requiring Pinterest URLs from entrants
You can decide whether or not to require the entrants to paste in the URL to their pin on Pinterest. By requiring this you will be able to view and follow that link to verify that the pin exists and that the user has successfully completed the entry requirements.
Additional Pinterest Pin It options
This entry type can be set as required or bonus. If required, your giveaway will be limited in that only those users with Pinterest accounts will be able to enter your giveaway. For bonus entries you can specify whether the entrant can pin your image daily and how many entries they will receive for pinning the image.