Why should you run a sweepstakes for your business? Based on a recent poll in one of our giveaways we asked entrants to tell us why they run giveaways, sweepstakes and contests for their businesses. The responses were pretty much what you'd expect, except that I had thought more marketers would have non-Facebook social media platforms as a top priority.
We asked 'When running a sweepstakes what is your primary goal?' and received the responses shown below, with engaging customers and increasing Facebook Fans as the top answers, followed by increasing email subscribers.
While some marketers are shifting focus amongst social networks, Twitter, Pinterest and Instagram were the top priority for only 2-4% of respondents. This is somewhat surprising considering the recent changes that Facebook has released for the algorithm of organic results in Facebook Newsfeeds, drastically decreasing the visibility of content to Fans for many pages.
"I now put much more priority into obtaining email addresses rather than a 'Like.'" – Jodi Friedman of MCP Actions
With Facebook's changes to their algorithm and the looming danger of your audience on any social media network being subject to that platform's changes, it would seem that companies would be looking to the traditional, direct approach of email with renewed focus. As Jodi Friedman of MCP Actions recently told us, "I now put much more priority into obtaining email addresses rather than a 'Like.'"
Based on the #1 answer of 'Engaging my customers' it seems that the social media network on which businesses are communicating are less important than the fact that, regardless of platform, it is vital to be in touch and encourage users to interact with the brand.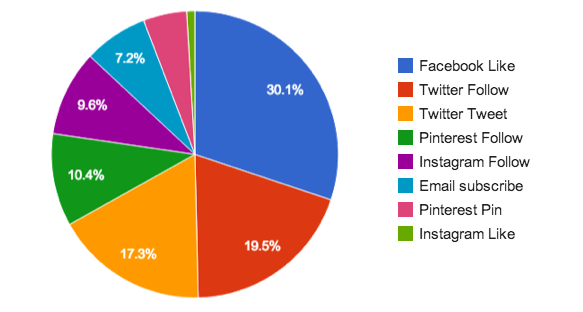 Looking at a sampling of 29,612 entry options from 10,000 sweepstakes recently run on the PromoSimple platform you can clearly see that Facebook 'Likes' and Twitter 'Follows' are by far the most popular entry methods used by sweepstakes administrators. 30% of all sweepstakes contain at least one Facebook 'Like' entry method, whether as a requirement or as an optional bonus entry.
What is your goal for running sweepstakes? Leave a comment below: