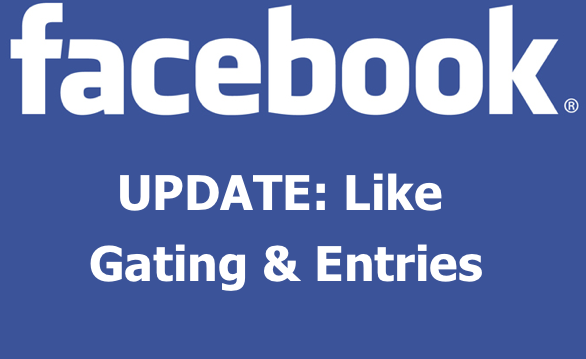 As we mentioned in an earlier blog post about the death of Facebook Like Gates, due to Facebook's recent policy and feature changes we've updated PromoSimple to help our partners to comply with Facebook's guidelines for how 'Likes' may be gained for Facebook pages. There are two primary changes that Facebook will be releasing on November 5, 2014.
You must not incentivize people to use social plugins or to like a Page. This includes offering rewards, or gating apps or app content based on whether or not a person has liked a Page.
The liked field will no longer be returned in the page property of the signed_request object for Page Tab apps created from today onwards. For apps created before today, from November 5, 2014 (90 days from today), the liked property will always return true regardless of whether or not the person has liked the page.
What this means for you
The first aspect, Facebook's policy to no longer allow Facebook Page admins to incentivize users to 'Like' a page, means that a giveaway or promotion cannot require a user to 'Like' a page in order to participate and bonus entries cannot be awarded for 'Liking' a page.
The second aspect, in which Facebook's API will no longer respond to whether or not a user 'Likes' a page, means that Facebook 'Like' Gates for the content of a tab on your Facebook Page will no longer work. All users visiting the content of a Facebook Page tab will be able to access the content regardless of whether or not they 'Like' that page.
How PromoSimple is changing
In order to help our partners to comply with these changes, we have released some changes to the way that Facebook and PromoSimple entry forms will work together. The most important aspect here is that PromoSimple forms will no longer require that a user 'Like' a page and will not award bonus entries for 'Liking' pages.
Like Gates on Page Tabs
We have removed the 'Like Gate' feature altogether. When you add a PromoSimple form to a page tab you will no longer see the option for enabling a 'Like Gate' for the content that is added to Facebook.
Facebook 'Likes' in giveaway entry forms
We will continue to offer the ability to add a Facebook 'Like' button to giveaway and sweepstakes entry forms. However, those that are added as 'required' entries will no longer contain any form of validation. This means that regardless of whether users 'Like' the page they will be allowed to enter the promotion.
For Bonus entries, you will be able to add Facebook 'Like' entries, but if users decide to 'Like' a page that you've included in your entry form they will not receive additional entries (chances to win) for doing so.
You may still add these options to let your users know that they can follow you on Facebook and 'Like' your page in order to receive updates from you in their Facebook Newsfeeds but it will not in any way impact their chances of winning the giveaway.
Changes to Facebook Like options in giveaways
We have updated the Facebook 'Like' entry option for giveaways to provide our partners with options for how they would like to present these optional 'Like' buttons in entry forms. In addition to a new 'Like' option, we have removed the validation within the entry forms so that regardless of whether the user 'Likes' the page they can still submit the form and be entered to win a promotion.
Standard Like Button
The simplest options for Like buttons, the standard Like button option allows you to add a Like button for any Facebook or website URL to your entry form. There is no validation and the user is not asked to enter any information.
Entrant data collection
In the second version of the Like button, you can input any Facebook page or website URL for the user to 'Like' A text field is also added to the form to ask the entrant to type in their Facebook user name. Completing this is optional for the entrant and no validation will be used. If the user inputs a Facebook username this will appear within your campaign's report for that user.
Facebook data collection
This is an updated version of the previous 'Validated' entry option. In this version you are allowed to enable the PromoSimple Facebook App. If a user chooses to approve the App and 'Like' your page their Facebook username will automatically be collected from Facebook and will appear within your campaign's report.
If you are currently using the Brands and Agencies account plan you may also opt to use your own Facebook App for this process.
These current changes will not impact the Refer a Friend entry option that encourages users to share your promotion on Facebook in order to help you spread the word about your promotion.