Sweeps Advantage was established in 1997 and is said to contain over 5,000 giveaway and contest listings within the sweepstakes directory.
The Sweeps Advantage website categorizes promotions by prize type, entry requirements and frequency as well as by particular brands and sponsors like HGTV, Ellen, Pepsi and Ford. Unlike many other directories, they also categorize promotions by destination for travel related prizes such as Vegas and Florida.
Giveaway Prize Categories on Sweeps Advantage
Photo
Essay
Baby
Car
Computer
Cruise
Home
Makeover
Scholarship
Travel
Truck
Vacation
Giveaway Requirement and Frequency Categorization on Sweeps Advantage
Daily
Instant Win
Weekly
Monthly
Canada
UK competitions
Postal mail
Makeover
Scholarship
Twitter contest
Facebook
Pinterest
Browsing Sweeps Advantage
Giveaways listings on the Sweeps Advantage website are very straightforward with simple text and the basic information that entrants need to decide whether the promotion is of interest to them. A basic listing contains the promotion's requirements and information regarding expirations dates and eligibility.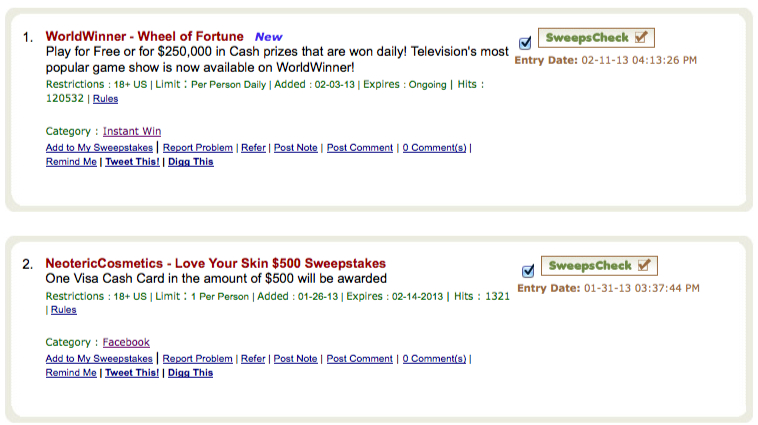 Adding a listing to Sweeps Advantage
Anyone can add a giveaway to Sweeps Advantage in return for adding a reciprocal link from their own website to Sweeps Advantage. In order to do so you must first create an account with Sweeps Advantage. If you choose not to add a link back to their website you can submit a listing for $45.00 per sweepstakes that is submitted.
When deciding whether to pay or add a link you should also note that linking back from your homepage means that Sweeps Advantage will mention you in their newsletter, which is delivered to 16,000 double opt-in subscribers. By selecting a paid submission your promotion is also added to their Twitter (7,200+ Followers) and Facebook (5,900+ Fans) accounts.
Be sure to submit your giveaway soon after it's launched, as the website states that it can take up to two days to approve a submission.
Sweeps Advantage Features at a Glance
Free listings available
Featured listings available (paid)
Registration required
Reciprocal link required
Add an image to listing
Categorization of listings
Listings are verified & manually approved by directory