Product contests are an awesome way to improve your brand recognition, build up a bigger customer base, engage with your audience. They are also a great public relations tool, all in the same place. 
Remember, contests differ from giveaways! In a contest, entrants are not randomly drawn, but rather compete for a prize based on merit. Giveaways, also known as sweepstakes, require winners to be selected at random. And in all contests and giveaways, it's important to steer clear of requiring entrants to purchase anything in order to participate. A "No Purchase Necessary" method of entry is required in order to keep your promotion legal–you can read more about this legal requirement here. 
That said, let's delve into some ideas for hosting a Facebook contest of your own. In order to engage with more people you need to come up with a creative format that stands out from the rest. So, to help you with that, I've gathered some creative Facebook contest ideas you can snatch and use!
In no particular order, let's start with the first one. 
"Caption This!" 
Personally, I mostly go on Facebook to have some laughs at the memes my friends have reposted and watch the occasional foodievideo. So, a picture caption contest would be the one that engages with me the most (totally unbiased opinion). 
I imagine this is why most people go on social media, actually, so I put this contest idea in the very first spot. 
It is basically a contest on who can come up with the funniest/most original content for a picture. Usually the pictures used for this are funny and silly, which aligns perfectly with why people spend time on Facebook in the first place.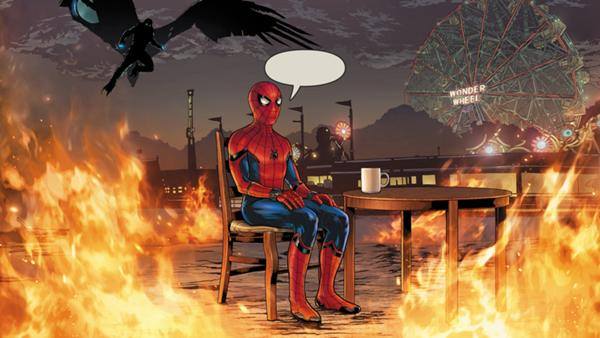 Image source: Caption This
This example isn't actually a contest, but rather a screenshot of a post by a group dedicated to this format. But just add the line, "The funniest caption will win our [product]", swap out the picture, and you have yourself a ready-made contest!
Just make sure to stay away from controversial imagery, such as political or religious. 
"Design This!"
With "creative" being in the title of this article, I simply could not skip out on this contest idea. The aim behind it is very simple: you're targeting the creative side of your audience and giving them an incentive to participate in the creation of your next product's design! 
This works best for products where you can easily apply someone's design, like t-shirts, mugs, etc. But in theory, you could have your audience design anything, from editing YouTube videos to crafting infographics and even coming up concepts of your next product line for a much smaller compensation than a creative agency would. As a prize, you could send out samples of your product, coupons, or even gift cards.
Image source: Megadeth's poster design contest
To ensure that your judgement is fair, you can pick the top 3/5/10 candidates, and host a community voting on the single winner. 
To make receiving submissions a little bit easier, you can also set up an online form. 
"Post A Photo With [Product]/At [Location]"
This one is a great contest idea for a couple of reasons. Of course, the first one is the fact that this will inspire people to investigate your products or even come to your brick and mortar storefront if you have one, and those people might be inspired to make a purchase (of course, you would need to include a "No Purchase Necessary" entry method for your contest in order to keep it legal). 
The second one is the fact that all of a sudden there will be hundreds of pictures of people using your product or taking selfies at your store and tagging your brand/sharing it online in the process, which is an undeniably awesome public relations move. 
But how would you pick a winner? Once again, you can follow the simple rule: the funniest/most creative wins. You may be surprised with what kind of things people come up with when tasked with being "the funniest", especially when there's some kind of gain involved.
"Name Our New [Product/Service]!"
When considering the name of your newest product or service, why not seek some help from your audience? This way, you'll be able to engage with them just that extra little bit more, and receive tons of awesome ideas. Besides, people love the idea of having something named after their idea. 
It is also very simple to set up: all you need is a picture of the thing you're trying to name, and a little spare time to review the comments under your contest post.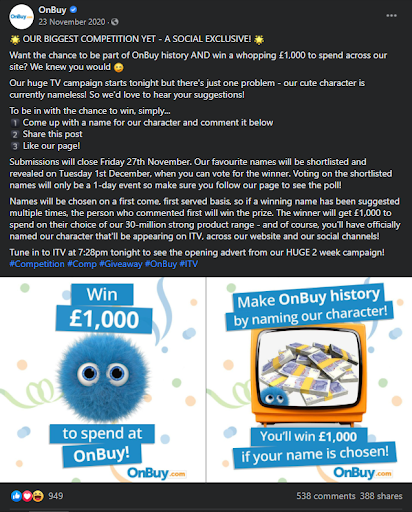 Image source: OnBuy
The prize is completely up to you. In most situations, it would make the most sense to just hand out the product or a yearly subscription plan to the service in question, but cash prizes are also very effective at grabbing people's attention.  
"How Do/Would You Use [Product]?"
Now, this contest idea is more strategic than creative. By asking your audience how they use (or would use) your product, you will be getting extremely valuable insights. This especially applies to products that can have multiple, not-so-obvious use cases (such as yoga mats, baking soda, etc.).
Why is this knowledge valuable? Because later on, you can use that information for promoting your product, and showing off all of the unusual use cases that it can work for. 
To make things a little bit more interesting, you can ask people to include a picture of them using the product, or even come up with entirely new, unexpected uses for it.
Conclusion
So, these were 5 Facebook contest ideas that encourage creativity both in you and your audience. Of course, there are hundreds of other ways to host contests, but you've probably seen the generic "click a link to sign up" or "refer 5 friends to win" at least a million times already.
I hope this post helped you find the inspiration for your next Facebook contest!
Author's Bio:
Managing brand partnerships at Respona, Vlad Orlov is a passionate writer and link builder. Having started writing articles at the age of 13, their once past-time hobby developed into a central piece of their professional life.