Recently I spent a few days researching video creation and editing software to find a solution that would allow us to create some very simple screencast videos to showcase how it easy it is to use some of PromoSimple's more advanced features. After installing and testing out about 20 different options I came to the conclusion that using iMovie and QuickTime Player (which are pre-installed on most Macs) actually provided everything that I needed.
Creating a ScreenCast
Using QuickTime Player you can select the option for creating a 'New Screen Recording' which allows you to select your whole screen or a portion of the computer screen to be recorded. It is extremely simple and straightforward. Once your recording is finished you can save or share the file.
At PromoSimple we also use a screencast app called Jing for creating short videos to share internally. This is a free service by TechSmith that allows you to record screencasts, upload files to Screencast.com and share the videos with others. You can also download these videos as Flash (swf) files.
Editing Videos and Screencasts
Using iMovie to edit the screencast is also a simple process. Import the video that you've taken using QuickTime into iMovie and you can edit the video to crop out certain portions or combine multiple screencasts to create a single video. Adding text, music or audio recordings is also possible and quite easy.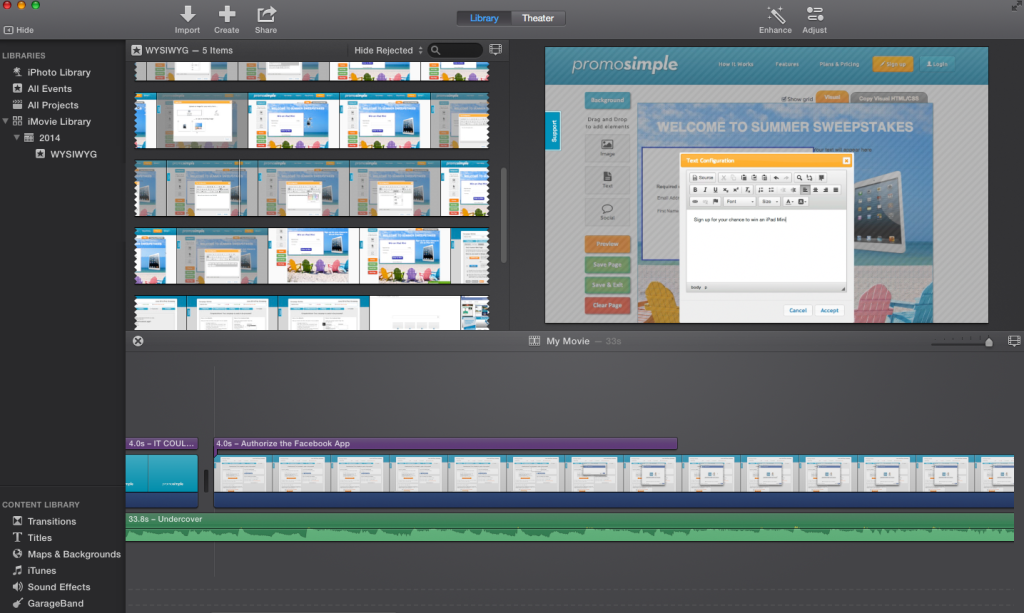 Once your video has been created you can save it to your computer or upload to a variety of services like YouTube, iTunes, Vimeo and Facebook using the Share function.
Sample Video of our WYSIWYG Design Editor
View more videos on our YouTube Channel
You can also embed videos from YouTube or other video hosting sites within your giveaways' entry forms within the Description area or the Thank you Message area on the Bonus screen for users that have completed the required portion of the entry form.