One of our newest entry types is the ability to add dropdown menus to your giveaway entry forms. This feature allows you to ask question or gather feedback in a compact format. Setting up a dropdown menu is quick and easy.
Creating a dropdown entry
After selecting Dropdown from the list of available entry types you are able to title your entry and add a brief statement or question for the entrant. You can then add as many options as you'd like by clicking on the plus symbol within the entry creation layer. Each of these options will be displayed within your entry form. This entry type can be used as a required or optional entry.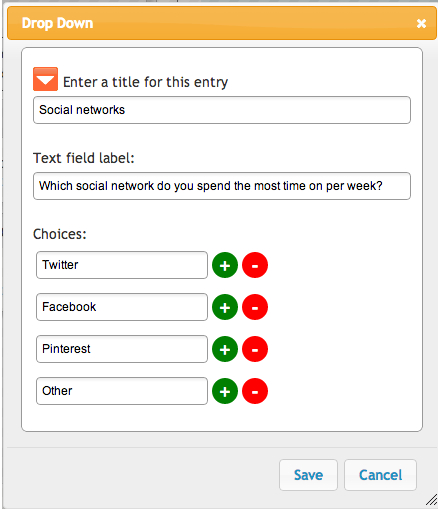 Reporting for dropdown entries
During and after your giveaway has run you can always check on the results of any entry with real-time reporting. The standard reports for dropdown menu entries include a breakdown of responses for the entire giveaway so that in a quick glance you can view trends in the selections being made by entrants. You can also see a full breakdown of answers by each entrant that has completed this entry.

Common uses for dropdown entries
Adding a dropdown menu as a giveaway entry is a quick and easy way for you to gather information from entrants without taking up a lot of space. It is also a technique for gathering this information in an organized and uniform manner, rather than using an open text field and trying to sort through answers that have been typed in. Some demographic and geographic questions are built in as options within default dropdown menus; this includes an entrant's country, state and gender. You can add your own demographic questions as well if you are interested in feedback such as education, income or number of children in the household. Another common use for dropdown menus as entry types is including trivia, polls or survey questions within a giveaway.