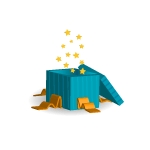 Contest details
Social Development Activities for Infants 3-6 Months Old:
Mirrors, mirrors, mirrors! Babies love to look at themselves in the mirror. Not only is it an engaging activity, but it also allows them to observe facial expressions.
Kicking and bicycle pedaling. Gently pedal your baby's legs as though they were riding a bicycle. Hold a mobile or toy above them that they can kick to move around.
Copycat and imitation. Make animated facial expressions or silly noises, then pause and allow your baby time to mimic them.
Responding and talking. Respond to your baby's coos and smiles to encourage their understanding of two-way communication.
6 to 9 Months Old
The social development in infancy skyrockets at six months — this is when you will begin to see your baby's temperament and personality shine through.
https://kiddieacademy.com/academies/stafford/programs/pre-kindergarten/
Winner: 1
Category:
Entry Frequency: one-time
Facebook required: no
Twitter required: no