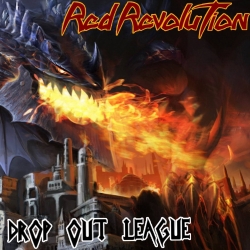 Contest details
Win a FREE copy of the Drop-Out League's debut album, "Red Revolution", signed by guitarist Niko "Fang" Wicked and lead singer Vinnie "Cleaver" Cazt.
The Drop-Out League is explosively leading the return of classic hair metal and the excess life of sex, drugs, and rock n' roll. The League consists of party animal Toby "Zombie" Copeland, explosive bassist Bruno "Jailbird" Fisk, lead singer Vinnie "Cleaver" Cazt, and the King of Sleaze, guitarist Niko "Fang" Wicked. The four deviants fuse classic blues, jazz, and rock with newer styles of hip hop and metal to form an amalgamation of New Hair Metal.
After forming in 2016, the League exploded onto the Los Angeles rock scene with their homemade pyrotechnic stage tricks and glam rock costumes. Since then, the League has performed at the Los Angeles World Peace Music Festival, New York City's Radio City Music Hall Festival, the earth-shattering Lollapalooza Festival in Chicago, and many more events.
Winner: 3
Category:
Entry Frequency: one-time
Facebook required: no
Twitter required: no