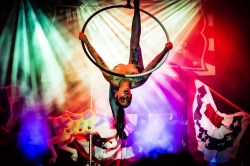 Contest details
SAN FRANCISCO's *world-famous* BURLESQUE revue turns "Sweet 16!" and we're celebrating with a supersized spectacular of circus skills, variety acts, & the TOPS IN TEASE!
Winners will receive two free GA tickets to the show! These tickets are usually valued at $20 each!
COME SEE…
Aerialists Duo Alpha Kitten (Portland)
Roxie LeRouge (New Orleans)
UNO (Tokyo)
Aerialist Joanna Animal
Babraham Lincoln
Qu'in de la Noche
Dorian Dietrich
Luma Jaguar
Jewels Good
Ohiole Dibua
Zara Bohéme
Margot Fatale
Laila Flame
& burlesque legend, Madame E!
With DJ MysterC (Ya Mamma's Basement)
and the Hubba Hubba Go-Go Squad!
Hosted by MC Kingfish and Alexa Von Sixteenface
Check out our BEST DEAL! The PIZZA SPECIAL!
https://www.dnalounge.com/calendar/2022/09-17a.html
Doors 7:00PM, Show 7:30PM.
18 & Up.
DNA Lounge
375 Harrison Street, SF
————————
CAN'T MAKE IT TO A SHOW, but like having us around when you can? — Please support Hubba Hubba Revue at:
GoFundMe: gf.me/u/xqvdcv
Or become a Hubba Patreon member at: patreon.com/hubbahubbarevue
Winner: 5
Website: http://BrokeAssStuart.com
Category:
Entry Frequency: one-time
Company: Broke Ass Stuart
Facebook required: no
Twitter required: no