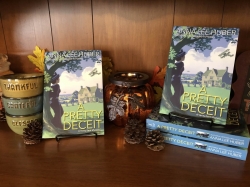 Contest details
2020 has presented unique challenges for many of us. But through those ups and downs, we've also had the opportunity to witness remarkable acts of kindness and sacrifice. In that spirit, I'm offering readers the chance to express their gratitude for these individuals in a special way.
Nominate someone who has helped you or others this year. They can be a nurse, a teacher, a neighbor, a friend, a first responder, a retail worker–anyone you wish to thank. Then I'll choose ten of those nominees at random and send them an autographed copy of A PRETTY DECEIT, Verity Kent Book 4, and other goodies, as well as a card informing them of your gratitude. And to thank you for helping to spread the love, I'll also send you an autographed copy.
*ENTER THE NOMINEE'S NAME and the reason you are nominating them in the Address column.*
Nominees can be anyone, but they must meet a couple specifications. Because of current postage restrictions, all mailing addresses must be located in the US – both the nominee's and entrant's. Entrant must also be able to provide the name and mailing address for the nominee–be it a home or business address.
Thank you all for your spirits of love and gratitude.
Best of luck!
Winner: 10
Website: http://www.annaleehuber.com
Category:
Entry Frequency: one-time
Company: Anna Lee Huber
Facebook required: no
Twitter required: no