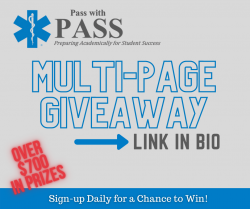 Contest details
LEGENDARY EMS PRIZE GIVEAWAY!
RULES OF THE LAND:
Tag 2x friends in the comments
1x comment with 2 friends = 1x entry
Unlimited entries!
*Get one day discount code at Pass with PASS after signing up below!
**Pass with PASS will pick one winner based off the engagement/entries for the winner of the Paramedic NREMT Study Guide.
***You must follow the contest post/directions on the other pages in order to be eligible for their prizes.
Giveaway prizes in no particular order are as follow:
Pass With PASS
1x PWP Paramedic NREMT Study Guide
MyMedEquip
1x CRT Cardiology Stethoscope
1x 35L Tactical Rucksack
The Medic's Lodge
1x Cardiac Arrest Prompt Card & 1x Traumatic Arrest (HOTT) Check-list card
GBU Paramedic
1x GBU book bundle including:
The Good, Bad & The Ugly Paramedic Student Handbook
The Good, Bad & The Ugly Paramedic
Reflective Rhymes for Patient Care
The Student Paramedic Podcast
1x TSPP #wearitforwater T-Shirt
ONE SHEAR
1x Student Paramedics Trauma shear + Kydex Holster
LizzieStudiesStudio
1x ECG Workbook and Study Guide
EMS_Universe
2x Winner's choice T-Shirts
The.Daily.Medic
1x TDM Sticker Pack
2x Winner's choice TDM Mugs
Student Paramedics
2x Student Paramedics Clinical Reference Cards
THIS GIVEAWAY WILL RUN UNTIL 4/24/2021 AT 2000 HOURS EST!
Winner: 1
Website: http://https://www.passwithpass.com
Category:
Entry Frequency: daily
Company: Pass with PASS, LLC
Facebook required: no
Twitter required: no