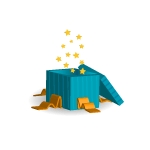 Contest details
A REVOLUTION IN CRYPTOCURRENCY
The Guardian Project has 3 missions:
Mission One is Mankind. We will inspire and energise the collective consciousness of mankind by fulfilling their survival and expressive needs through decentralised investment opportunites. The Humanity Fund Wallet, the Award Pool taxation and Free-bird competition was conceived with mission one in mind.
Mission Two is the Planet X. We will preserve the Earth with awareness, millions of participators and taxation funding. Awareness, participation and substantial fundings is only possible if a large number of people have opportunity and independence to chose their destiny. Together with revolutionary means of tokenomics, we will advance the world to a new world order of self sufficiency, self reliance and self governance.
Mission Three is the Ecosystem. To conserve the wonders of life on Earth, the Earth Bank wallet was conceived with mission one and two in mind.
FREE-BIRD COMPETITION
Planet X Token project will host international competitions to offer humanity with opportunities of independence and freedom of expression. The award pool tax from buys, sells and transfers will be the funding source of competitions.
A $20,000 award will be divided between top 10 places. The international competitions will initially take place every two weeks.
The categories of competitions will be: Performance, creativity, positive influencer and humanitarian award.
AUDITED & KYC
JOIN US ON AN AMAZING JOURNEY
Winner: 50
Category:
Entry Frequency: one-time
Facebook required: no
Twitter required: no