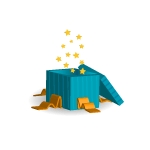 Contest details
It's an early start to the weekend. You wake up full of excitement. You've waited a long time for the day, and it's finally here. You get ready, pick your mates up, and hit the road. Everything's going great, and then your car breaks down. It's never a great feeling.
A road trip is one of the best ways to get away from stress and live in the moment. It's one of the memorable moments to enjoy a vacation with your favorite people. But a road trip can go awry quickly if your car gets into trouble. With that in mind, let's take a deep dive into the most common car troubles you might experience on the road.
What are the most common issues you could face on the road?
Your car battery quits on you
Car batteries can fail when you least expect them to do so. Before you plan for a road trip, get a thorough battery inspection. This will ensure everything checks out, minimizing the risk of facing a flat battery on the road.
If your battery is more than two to five years old, it's necessary to change it. Get a hassle-free car battery replacement at Service My Car.
You get a flat tyre on the road
We've covered this before, and it goes without saying – no one likes a flat tyre. Why would you want to waste your getting your hands dirty and replacing the flat tyre, when you could be having the time of your life with your mates?
In any case, it's best to be prepared for such situations. Always ensure you have a spare tyre in your car before you set off on the road. That's just half the battle won, though. Studies have shown that most drivers don't know how to replace flat tyres.
Thanks to trusty and swift roadside assistance services like Service My Car, you don't have to anymore. Get a flat tyre replacement in no time when you book one at Service My Car.
You run into brake trouble
Before heading out on the road, check your brake pads, fluid, rotors, and drums. If only one thing goes wrong with your brakes, it poses a severe risk for you and your passengers.
To mitigate such risks, it's advisable to get a professional mechanic to carry out a brake check. At Service My Car, our certified mechanics carry out brake checks and top-up vital car fluids with our Major Service. If something needs fixing, we'll take care of it.
Your engine fails on you
The engine is the heart of the car. You should keep a constant check on the engine. This is required, especially if the engine light is on, or if it tends to overheat a lot.
By doing this, any problems with the engine can be detected and fixed before they become problems on your road trip. The first checks can be helpful as they overcome the trouble you might face on the journey.
An engine tune-up can provide confidence, so you know that your engine will not fail you. We'll assist you in tuning your engine, or carrying out a car engine repair, so you don't have any problems in the future.
Your transmission goes out
Dashboard lights, dead spot sounds, fluid leaks, and grinding gears can all signal that your transmission may be in trouble. If your transmission stops, you'll never get anywhere. It's frustrating at home, but dangerous when you are far, far away on a trip.
A transmission check may reveal that you need to change the transmission fluid, or flush your transmission system. Such maintenance can prevent issues later. You can also get a car transmission repair at Service My Car.
Your car runs out of petrol
Now, the solution is simple. Fill your tank before you can get started with the road trip. Don't assume you can travel to the next petrol station at the first sign of low fuel.
Here's a pre-road trip checklist we swear by
-Tyres (tread, integrity, air pressure, wear)
-Oil and oil filter check
-Air filter check
-A/C filter check
-Coolant fluid check
-Spark plugs check
-Fill your windshield wiper reservoirs
-Spare tyre and jack check
-Electrical units check (exterior lights, cabin lights, blinkers, and hazard lights)
-Radiator flush check
If all of that sounds daunting, why not get a Major Service at Service My Car? We'll check and replace all the vital parts, top-up all the fluids, and we'll collect and deliver your car once it's done. We offer a range of car services including car AC repair, car engine repair, car sanitization, car transmission repair, and many other services. Suppose you're facing any issue with your Lincoln then don't worry simply make a booking on our application or website after that we'll provide you the best Lincoln Repair. All you need to do is make a booking, and Service My Car will take care of the rest.
Car maintenance doesn't have to be a hassle. It certainly isn't one when you choose Service My Car.
Book a Major Service today on our website or on the Service My Car Super App.
Winner: 1
Category:
Entry Frequency: one-time
Facebook required: no
Twitter required: no