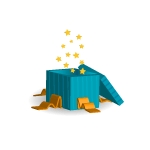 Contest details
Surely you must have a tripod in your house that collects dust. Why are we so resistant to taking this accessory when doing a photoshoot or going on a photo hike?
We can avoid it, yet it is an essential accessory for any photographer worthy of the name because it gives more quality and clarity to the photos, in most existing disciplines.
Today, we present to you the photo disciplines for which it is absolutely necessary to use a photo tripod and to take the same photos as those we see in magazines specializing in professional photography and on social networks.
When to use a photo tripod becomes essential
If you haven't yet integrated a photo tripod into your work gear, don't miss this article where we show you how to choose the right tripod for your camera. Not all are created equal!
And if in addition, you are planning a long trip with your device, we advise you to take a look at this post, where we tell you how to choose one to achieve photos worthy of a travel catalog, without giving up your own comfort.
1. The silky effect on water
Opting for long exposures when there is water in the scene is always a good option since your landscapes take on a new dimension, a new character.
Working on the silky effect on the water gives you very striking and spectacular photos but if you use longer exposure times than usual you will need a reliable fulcrum that eliminates all types of shaking and vibrations that affect the image quality: this is the photo tripod.
2. The luminous wake of car headlights
How many times have you seen pictures like this and were left speechless? What is certain is that these are very striking photos, but to capture the light trails left by the headlights of cars, slower shutter speeds must be used, so that a photo tripod can be used. 'proves essential for seductive light trails.
3. Sunrises and sunsets
However, taking pictures of sunrises and sunsets can be a little more complicated than you imagine, especially if you don't have the right camera equipment.
Let's not forget that the prime moment only lasts a few seconds, so you will definitely need to use a tripod to ensure you get excellent sharpness and a greater depth of field.
4. The photo tripod in macro photography
One of the major problems found in macro photography is obtaining sharpness over the entire image, that is, obtaining a great depth of field.
To do this, you have to apply focus stacking or focus stacking, an etchnic that we present to you in this article.
Basically, focus stacking consists of taking multiple photos focusing on the same object without moving the camera and changing the focus distance to stitch them together in post-production.
For photos that combine perfectly, it is essential to use a photo tripod. This will also be the case for insect photography because the slightest vibration will be seen in the image, on the final result.
5. Night and star photography
Whether for photos of the city at night or for photos of stars or the Milky Way, the photo tripod is essential.
For this type of photo, it will be necessary to resort to larger apertures of the diaphragm to send more light into the sensor, not to mention shutter speeds which will give more sharpness at night. But this results in vibrations and tremors, if one does not use a tripod.
6. Pictures of the moon
To photograph the moon like wild animals, the use of a parfocal lens is essential because they are the only lenses to give foregrounds of these scenes so far away from you.
Parfocal lenses are the heaviest lenses on the market, so working with the lens in hand quickly becomes impossible. With a photo tripod, you will avoid many vibrations and headaches.
7. Lightpainting with a photo tripod
As the camera sensor is exposed for a long time, working with the camera by hand will be impossible, so the camera tripod will prove to be a great ally.
Set up your camera on a tripod to cope with the long exposure time and not move the frame, and try using a wide-angle focal length which gives you more maneuverability on the movement of the shot.
Reference:
https://catbuzzy.com/
https://acrochat.com/
https://www.schoolnotes.com/blogs/view/132424
https://www.klusster.com/portfolios/photography/contents/222713
https://dailypost.cyou/when-to-use-a-photo-tripod-becomes-essential/
https://pedagogue.app/how-to-safely-clean-the-sensor-of-your-dslr/
https://4portfolio.ru/user/itedu/dzofilm-catta
Winner: 1
Category:
Entry Frequency: one-time
Facebook required: no
Twitter required: no