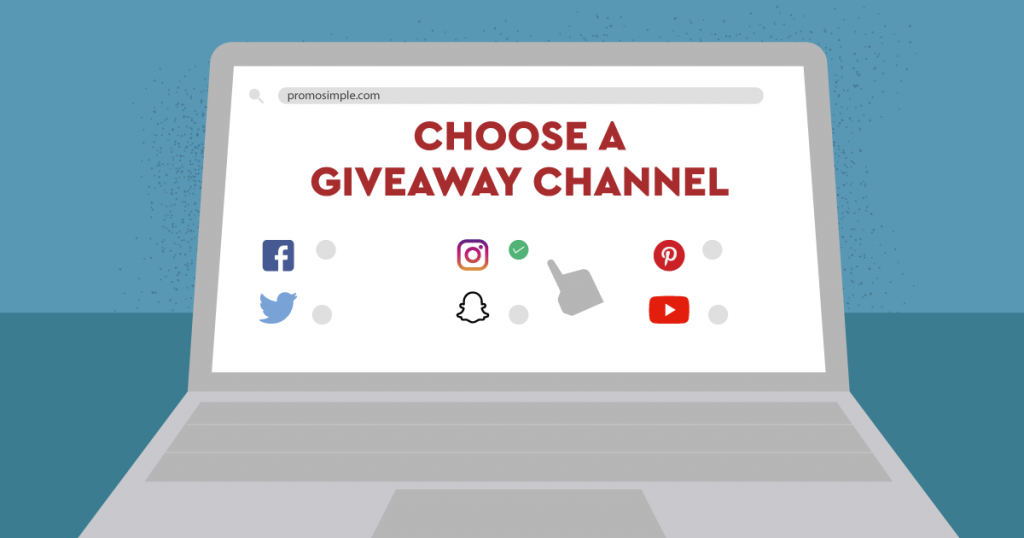 Now that you've settled on your goals for your giveaway, you're ready to move on to the following stages of your giveaway campaign. What you need to pay attention to first is clearly defining your contest rules, and then determining whether there are ancillary goals that can help you to get the very most out of your promotion.
Playing the game by the rules
The importance of keeping the entire campaign legal cannot be emphasized enough. It's essential to get familiar with all the federal and state rules and regulations for conducting giveaways. This crucial step prevents both companies and the participants to breach the laws which can lead to serious financial penalties and repercussions.
Everything needs to be clear and straightforward, and everyone should be able to easily find the rules of your giveaway on your website or social media post. Also, it's highly recommended to add as many references to those rules as possible because it increases their transparency.
Depending on the type of giveaway (sweepstakes, raffle, or contest) you might need to include different points, for instance:
Who can enter (e.g. sweepstakes usually allow only U.S. citizens to participate)
The way the winner will be chosen (contest judging criteria)
How technical issues will be handled if they occur, etc.
Lastly and most importantly, what the administrator or sponsor of the giveaway intends to do with the gathered information must be disclosed in the rules. This is especially important if the information is to be used for marketing or research purposes, as all entrants have to be able to clearly understand what they are agreeing to.
Getting the most out of your giveaway
In addition to the requirements that all entrants must complete, you can also add bonus entries, which are optional for entrants. In return for completing these entries, the entrant is awarded a set number of additional chances to win the giveaway. For instance, when an entrant completes a bonus section (e.g. shares the social media post) they will be rewarded with extra bonus points which should give them a higher chance to win your contest.
However, tread carefully when it comes to adding these bonus entries. First, you have to keep the goals of your campaign in mind and determine whether including optional entries will contribute to meeting your goals successfully. And second, if you add too many requirements you can seriously affect the total number of entrants. Just think about it: it's one thing to ask for an email, but if you ask for more personal details – people might bounce right off the page.
Growing your email newsletter list with giveaways
If you have an established email campaign, you've probably realized that growing and maintaining a quality subscriber list is an activity that takes constant vigilance. It requires much more than a 'set it and forget it' kind of marketing. However, a giveaway can help make the task much easier, as they proved to be an incredible tool for growing brand awareness and attracting new users.
If email marketing has so far been a crucial part of your campaign, you're probably familiar with terms like attrition rates, SPAM complaints, and bounces – these may even keep you up at night. One of the most powerful aspects of a giveaway is that users must provide legitimate email addresses when they enter, or else they cannot be contacted if they win. Surely this significantly decreases the bounce rate.
However, not every entrant will immediately be so taken by your brand that they agree to receive daily emails from you. By including an email subscription as a bonus entry, only those who are interested in your daily/weekly/monthly newsletter will subscribe. This helps to maintain your list integrity and reduce the chances of your open rates dropping or complaints increasing.
With PromoSimple, it is incredibly easy to integrate some of the most popular email service providers (e.g. MailChimp, Constant Contact, Mad Mimi) directly into your campaign, as users are automatically added to your lists when submitting the entry.
Should you include bonus entries in your giveaway?
Yes.
One thing is certain: incentivization gets people to do things. By giving people incentives like bonus points that improve their chances of winning the prize for completing certain actions, you can positively affect the outcome of your campaign. Thus, if your aim is to grow your leads and the number of your giveaway entrants or increase your social media followers, bonus entries can be a super-powerful mechanism you can use to achieve those goals. Evidently, bonus entries can be so much more than just an email collection tool.
Namely, bonus entry options are the ancillary goals for your giveaway. They are 'nice to have' but even if they are not completed by every entrant, it doesn't mean that your giveaway was a flop. For instance, your primary goal might be to increase your Facebook fan base, which means attracting new Twitter or Instagram followers is just a secondary goal.

How do you do include a bonus entry?
By carefully considering the giveaway requirements
When a giveaway includes requirements such as being a Facebook fan or a Twitter follower, you are restricting the audience that will participate in your promotion. Potential entrants that are not on, and don't want to be on a particular social network aren't going to enter your promotion. That's why you need to be clear about the goals of your campaign and define what the important actions you want people to take are and include those in your bonus entries. 
By letting your audience decide how to interact with your brand
Including optional, bonus entries allows your entrants to decide how they'd like to keep up with your news. While some will be happy to follow you on social networks, receive your emails, subscribe to your RSS feeds, and opt into every other communication channel you participate in, others will want to limit this interaction. Bonus entries give the user the power to decide where and when to hear from you. There's a fine line between someone's initial interest in your brand and intrusion into their virtual space. Therefore, it's up to you to provide more entry alternatives which can cater to your audience's different interaction preferences. This way you're letting your audience know that you respect the way they want to interact with your company.
By setting realistic expectations for bonus entries
Not all entrants are going to complete all bonus entries, so be sure to keep your expectations realistic. In fact, just a bit more than 40% of entrants complete at least one bonus entry. Unsurprisingly, subscribing to email newsletters has the highest participation rate. This is due to the fact that every entrant must have an email address, whereas some entrants may not have accounts on social networks or may otherwise be unable to enter some bonus entry options. But bear in mind that incentives can help to grow your leads, so giving something in return for completing bonus entries can help you hit your targets.
By avoiding the most common mistakes
If you want to increase the chances of organizing a successful promotional campaign, there are some things you should avoid. Every process can be subject to many mistakes, and these ones, in particular, can be related to the type of entries you want to include:
The entry process is not clear.
Every step of the bonus entries process needs to be very straightforward, and all actions should be easy and goal-oriented for the entrants. Actions should also take just a few seconds to complete, which additionally improves participation rates of your giveaway. So, if you create a confusing entry process, people might not know what they need to do to take part in the giveaway. And if it's time-consuming, some people might even opt out from the whole contest.
Starting from your promotion landing page and CTA, all the way to the entry confirmation, everything needs to be as clear as possible so that entrants are motivated to complete the process quickly.
The entry barrier is too high
This just might be the biggest reason a lot of promotions fail. Having a high barrier either means that the whole entry process is too long and asks for too much information from the users, or the necessary requirements simply take too much time to complete.
For instance, if you ask the entrants to provide their name, email address, phone number, home address, and whatnot, some may find it too much and simply leave. Facebook login, too, can quite often represent an issue. Many people simply don't use this social networking platform or, which is usually the case, don't want to grant access to their Facebook information. Thus, if you're planning to use Facebook login as a gateway to your giveaway, consider adding an alternative entry method as well.
If you do decide to ask people for a bit more info, it could be a good idea to split the promotion into bite-sized chunks. For instance, you could ask for an email address first, then move on to other actions or pieces of information. This way, even if they decide to bounce from the second page you'll still have an email address to contact them one more time and encourage them to complete the process.
The good thing about this is that in most cases a name and an email address are quite enough to complete at least one goal of your promotion.
There are no follow-up emails
Even though your giveaway campaign resulted in a huge number of leads or social media followers, it might turn out to be a failure in the long run. Why? Because of the bad customer relationship approach and a poor follow-up.
Aim at building lasting relationships with your existing and new customers. Start by sending each of them a personalized email thanking them for entering the giveaway, informing about the winners and, if possible, providing them with a consolation prize.
A good follow-up will inspire your audience to become and remain loyal, which further leads to referrals. Follow-up emails or communication through social networks for instance often make for happy customers who are likely to share their positive experience with their communities and your potential followers.   
Finally, this can generate social engagement and positive buzz around your brand and giveaway.
First things first, you have to check whether the entire entry process works. Before launching your campaign, test everything on different internet browsers, as well as mobile devices. The latter is especially important because more than one billion people access the internet from their mobile and smartphone devices. You'd be surprised by the number of promotions that fail just because people experience issues or cannot enter the giveaway via their phone at all.
Choosing the right, or the wrong platform in this case, to host your promotion is paramount. Depending on your goals, decide whether it is your website, Facebook, Twitter, YouTube or Instagram profile that will work best in your favor.
No Purchase Necessary is neglected
We've already mentioned the importance of keeping things in accordance with the rules and regulations of organizing giveaways. This particularly applies to purchasing a product as a means of entry or increasing an entrant's odds in a giveaway, which is considered an illegal lottery. Therefore, it is highly recommended not to make this an entry option as part of your giveaway and include the No Purchase Necessary practice in your giveaway rules.
Conclusion
The bottom line is that giveaways are a fun way to engage with your audience and reward them for their participation and loyalty, as well as grow your business and brand's image. By including some bonus entry options (e.g. to subscribe to a Newsletter, like a Facebook post, follow a brand on Twitter, subscribe to an RSS Feed, leave a comment, etc.) you increase your own giveaway winnings – increased brand awareness and expanded new customer list.